---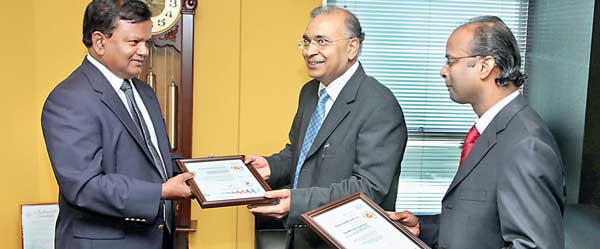 BOI Chairman Upul Jayasuriya formally presenting the Certificate for Good Manufacturing Process and Food Safety System Certification 22000 to Aissess Oats Milling Director Vinod Gupta in the presence of SGS Country Head Sriram
Aussee Oats Milling Plant (Pvt.) Ltd, a Board of Investment (BOI)-approved enterprise, announced that its Mirigama factory in Sri Lanka has recently procured the highly acclaimed Food Safety System Certification (FSSC 22000) and Good Manufacturing Practices certification from SGS Lanka (Pvt.) Ltd.

An internationally established and applied food safety system certification, it far exceeds and encompasses the standards and degrees of other renowned certifications like the ISO 22000 in terms of the scrutiny and reviews. At present it is recognized the world over as an authentic and one of the most reliable international safety standard credentials. Obtaining this certification has placed Aussee Oats at par with brand names like Nestle, Coca-Cola and Danone - all recipients of this certificate!

In addition to the other certification requirements for food safety management such as Food Safety Management System (ISO 22000), the Good Manufacturing Practices (GMP) and the Hazard Analysis and Critical Control Points (HACCP), the management believes that this certification will lend a crucial advantage to the company's global business and development.

"Food safety is linked to winning customer trust and this certification is part of our larger commitment to producing oats that are safe for our international, as well as our domestic market," a spokesperson for the company said. The company now plans to get hold of certifications such as HALAL that can greatly help its position in significant regions such as the Middle East. Along with the Gulf nations, India is also an immediate international market that the brand is looking to expand into.
Having already launched the 'Instant Oats' and 'Rolled Oats' variety in the local market, Aussee Oats will soon introduce its newest 'Steel Cut Oats' and 'Flavored Oats' with the 'Flavored Oats' variant coming out in August.
Aussee Oats will be participating and showcasing its product range at the Pro Foods Pro Pack &Agbiz international food expo held in Colombo, Sri Lanka from August 12 to 14, 2016.