---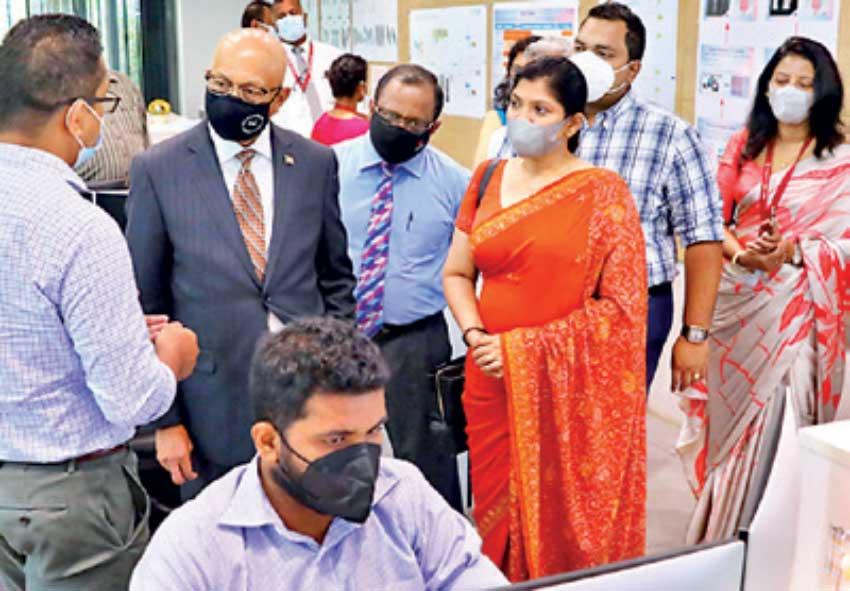 During the observational visit to 3D Garment Division of Star Garments by Raja Edirisuriya, Chairman of Board of Investment of Sri Lanka, BOI Director General Renuka M. Weerakone & Executive Directors MKD Lawrence, Priyanka Samaraweera and DWG Jayatissa the Vice President of Star A Como Company
On the occasion of the International Woman's Day (IWD), Raja Edirisuriya, Chairman Board of Investment of Sri Lanka (BOI) visited the Katunayake Export Processing Zone.

The programme comprised of an event jointly organized by BOI and the Ministry of Labour in appreciation of the female workers' contribution towards the Sri Lankan economy. The agenda focused to honour the hardworking female workforce.

Nimal Siripala De Silva, Minister of Labour, Chairman BOI, Commissioner of Labour, Director General BOI, Director Primary Care System Strengthening (World Bank Project), participated at this event along with respective employees of enterprises and officials from Ministry of Labour and BOI.

This was followed by a few factory visits by the Chairman, DG, BOI and senior officials. During the factory visits Chairman and the BOI team visited Star Garments, the company who first invented the Passive House Technology.

The Sri Lankan Garment Industry known for its ethical manufacturing renowned for its high compliance, high labour standards and ethical integrity moving a step forward has introduced sustainability which is an increasing need in the future. Chairman BOI appreciated the initiatives of the Star Garments towards sustainability, and emphasized the need of establishing the same in all the other BOI enterprises and stated that it is important for all enterprises to move towards Eco Friendly Management Systems and create a green environment in achieving sustainable development for the country.

The DG BOI commented, that all proposed Export Processing Zones that will be developed in the future will meet the criteria to establish Environmental Friendly Zones. She further stated that the use of alternative sustainable energy will assist the Government as well as the Private sector and will be beneficial for both parties.

The BOI team also visited United Tobacco Processing (Pvt) Ltd (UTP), Hayleys Free Zone Ltd and Insee Eco Cycle Lanka. Discussions were also held with Free Trade Zone Manufacturing Association (FTZMA) and the Joint Apparel Association Forum (JAAF).

During the discussion with FTZMA, Dhammika Fernando Secretary FTZMA mentioned that "Despite the pandemic Enterprises have achieved higher level Exports by increasing their production and making a valuable contribution towards the economy in the country"