---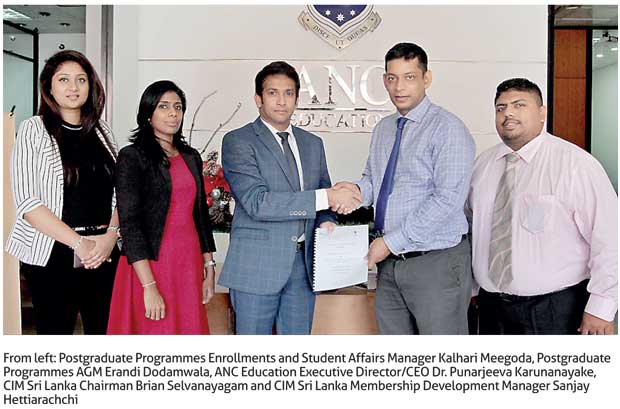 ANC Education and the Chartered Institute of Marketing have entered into a partnership with the aspiration to build awareness and share industry know-how and to provide the CIM students who have completed the Professional Diploma in Marketing (Second Stage of CIM) entry on to the MBA programme offered by ANC in collaboration with the University of West London (UWL).

"This is yet another extension of our many corporate partnerships and it is unique in that no other MBA programme in Sri Lanka offers this particular entry path way to CIM Stage II students," said ANC CEO/Executive Director Dr. Punarjeeva Karunanayake.

Students who have completed CIM would also be able to avail themselves of special offers when enrolling in the MBA programmes offered by ANC in collaboration with UWL.

Apart from entry to ANC's MBA programme with CIM stage two, students could also avail themselves of a special financial grant for CIM students, customised payment plans and student loans, as well as credit card payment plans with zero percent interest.

"We see this as an opportunity to work closely with the marketing fraternity in providing higher education opportunities, while CIM students as well as graduates will have a pathway to obtain a MBA qualification and progress in their chosen career," said Dr. Karunanayake.

"We are pleased to be associated with ANC Education, an educational conglomerate specialising in providing the best of international undergraduate and postgraduate education through it's partnerships with some of the leading universities world-wide," said CIM Sri Lanka Chairman Brian Selvanayagam. "Not only does ANC offer multiple options to its students, but it ensures that students pursue their academic and professional dreams whilst learning to lead in their chosen fields."
The University of West London was ranked number-56 in the Times Good University Guide for 2018, and was also placed 58 for the 'biggest rise' in the UK amongst universities for 2018 in the Guardian League Table, while 97 percent of WNL graduates have obtained employment within three months of graduating. The university is also rated Silver in the Teaching Excellence framework, while both in 2016 and 2017 UWL was rated as the number-one university in London for student satisfaction (National Student Survey).

As the leading transnational education service provider in Sri Lanka, ANC offers a range of internationally recognised Masters Level Degree programmes in Business and Law which could be availed of by CIM students.

The LLM programme at UWL is designed to meet today's demands of the international legal professional, while the Claude Littner business school within the UWL is a leading provider of business and finance education providing a wide range of undergraduate and post graduate courses that lead to professionally accredited qualifications.

The University of West London is recognised by the University Grants Commission of Sri Lanka and is listed in the Commonwealth Universities Yearbook as well as the International Handbook of Universities.

This joint collaboration by two leading educational institutions such as ANC and CIM can only serve to prepare and propel local students for and into the international career arena.