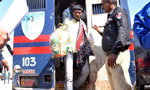 After spending 41 days in Sri Lankan jail, 37 Indian fishermen belonging to Nagapattinam arrived at the Indian Coast Guard station in Karaikal on Saturday to an emotional reception by family members, friends and officials.
The fishermen were detained by the Sri Lankan Navy on April 4 for allegedly fishing in the waters of the island nation and were subsequently remanded in judicial custody. A court in Sri Lanka had issued order to release them on Friday.
Commandant Udal Singh, Commanding Officer, Coast Guard Station, Karaikal, received the fishermen when they landed at the jetty. The family members, who were eagerly waiting for their release, received them with tears.
After preliminary inquiry, the Coast Guard officials formally handed them over to the Fisheries officials. After the interrogation by the police, Intelligence Bureau and "Q" branch, the fishermen left for their respective home.
Earlier, the Coast Guard vessel, "Abheek," took over 37 fishermen from a Sri Lankan Naval ship at the International Maritime Boundary Line. The repatriation took place at 12.30 pm. They were subsequently brought to Karaikal.
Five boats on which the fishermen had ventured into the sea are yet to be released.
(The Hindu)