---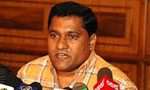 JVP parliamentarian Vijitha Herath testifying at the trial against the Development Lotteries Board's former chairman Chandrawansa Pathiraja told Additional Magistrate Aruni Attygala that in January last year complained to the Bribery Commission that the accused had caused a huge monetary loss to the DLB.
He said inside sources at the DLB had informed him that the loss had occurred when Dr. Pathiraja had violated accepted tender procedures by awarding promotional work on Janajaya and the Super Ball lotteries to a company known as D2 of S2 of which his cousin was a director.
During cross examination by PC Kalinga Indatissa Mr. Herath said that even though he had made the complaint to the BC he had not checked the names of the directors from the Registrar of Companies because it was the duty of the BC to do so.
Further trial was postponed for October 24.
The Director General of the Commission to Investigate Allegations of Bribery or Corruption had filed this case against the former chairman of the DLB under Section 70 of the Bribery Act for awarding promotional activities to the Company in violation of the law.
The BC had listed 16 people as witnesses. (T. Farook Thajudeen)