---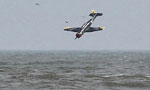 A senior official from Myanmar's Civil Aviation Department said "an unidentified aircraft" has crashed into the sea off the west coast today and authorities were trying to locate it.
"The only thing I can tell you for sure at the moment is that it is not an aircraft from our domestic airlines, so far as we've checked," senior department official Tin Maung Ni told Reuters.
The official said aviation authorities were alerted by regional "sources" about the crash which, according to the unconfirmed reports, occurred late on Friday morning.
Tin Maung Ni also said there were no reports of anything untoward from any "companies operating offshore in the area and overflying" Myanmar.
Civil Aviation Department staff in the area had been sent to investigate and were expected to report back at around 3 p.m. (0830 GMT), he said. (Reuters)