---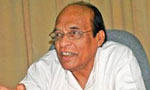 Former chairman of the Committee on Public Enterprises (COPE) D. E. W. Gunasekera yesterday pointed out that Central Bank (CB) Governor Arjuna Mahendran had spent 140 days abroad and only 180 days in Sri Lanka since his appointment to the top post in the Central Bank one and a half years ago.
Addressing the weekly news conference of the joint opposition, the former MP said he was aware of many things about the governor but will not reveal them because of the issue of parliamentary privileges.
"A majority of the ministers within the government also do not like him. Heads of private sector entities, the public, economists and academics have said they were disappointed in the Central Bank Governor's performance so far. As a result there is absolutely no reason to protect him," he said.
He said Parliament was dissolved before the report of the COPE could be published, but even after 11 months, no action has been taken. "A promise was made to probe the Central Bank Bond Sale scam under a new government and a new COPE, but nothing has come of that either," he said.
Mr. Gunasekera said when he was in Parliament recently, a request had been sent out to the members of COPE to participate in a debate. "Attempts are being made to prevent the governor from being summoned to Parliament. Why is this?" he questioned.
Meanwhile, joint opposition leader MP Dinesh Gunawardane requested President Maithripala Sirisena to appoint an honest and credible official to the post of governor instead of re-appointing Arjuna Mahendran. (Lahiru Pothmulla)