---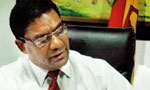 An importer found guilty of importing disassembled vehicles in a container claiming it was machinery was fined Rs.65 million by Customs, Director General Chulananda Perera said today.
"The 40-foot container was imported on the 'Ebba Maersk' vessel on May 2 and taken into custody on May 6 by the customs and the Customs Revenue Task Force (RTF)," he said.
The container had been imported by Japan Lanka Enterprises private company in Thihagoda Matara by an importer who had been identified as a Southern Province Basnayake Nilame. He had paid Customs duty of Rs. 362,501 to have the goods released.
"When the container was to be inspected, the importer had made an appeal to the Director General of Customs requesting him to conduct this examination at their Matara stores complex as the movement of the cargo will damage the machinery and the container," Mr. Perera said.
After considering the request made to the Customs Director, the containers were examined under the supervision of three senior RTF officers.
"The examination revealed that the container had several disassembled vehicles inside in addition to the items declared by the importer to the Customs," the Director General said.
The Customs investigation was carried out on the instructions of Customs Director General Chulananda Perera.
The importer was fined three times the value of the cargo. (Chaturanga Pradeep)