---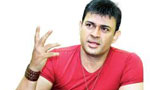 The Police Financial Crimes Investigation Division, yesterday, recorded a statement from popular actor and MP Ranjan Ramanayake over his allegations about former minister Keheliya Rambukwella receiving Rs.20 million from the President's Fund for treatment of an injury following an accident in Australia.
Mr. Ramanayake had arrived at the FCID office at around 2.00pm and left at 6.00pm.
The FCID had requested additional information regarding a statement made by Mr. Ramanayake in Parliament (and recorded in the Hansard).
Mr. Ramanayake had told the FCID that Mr. Rambukwella had claimed and received compensation from the President's Fund in 2013 plus compensation from the hotel in Melbourne and on his local insurance policy.
Keheliya Rambukwella, the then Minister of Mass Media and Information, had met with the accident in February 2012 while on a private visit to Australia with his son whose knees required medical attention. The minister had sustained serious injuries to his legs after falling off the third storey balcony of his Melbourne hotel.
The FCID is conducting the probe to verify the allegations. (Kurulu Koojana Kariyakarawana)