---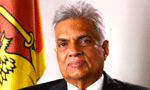 Prime Minister Ranil Wickremesinghe said that there was a golden opportunity for the country to move forward, as the current political stability was something which we would not get after five years.
"The current political stability is something which we will not get after five years, so I invite all the top 30 companies to invest for the development of the country," the Prime Minister said, addressing the business leaders of the Top 30 corporate entities in Sri Lanka, at the Business Today Top 30 Awards.
"We have a tremendous opportunity to develop the country, and there are a lot of investments coming in. Our core projects are the South-West Corridor, and we are preparing plans for the North-East Corridor to develop the area around Trincomalee," he said.
"We even have plans to set up a special development zone around the Trincomalee Harbour, because there is going to be a huge demand for logistics, and we are situated strategically to become a logistics hub in the region," he said. (Supun Dias)