---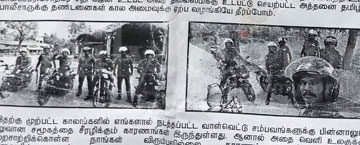 A group calling themselves the 'AAVA Gangsters' has claimed responsibility for the sword attack on two police officers in the Chunnakam market area.
The group said the incident was a retaliation for the death of two Jaffna university students who were allegedly shot the by police.
The group warned the police and the public to expect such incidents in the future as retaliation against activities that were destroying the culture and society of Jaffna.
A rough translation of the poster put up on the walls of Jaffna claimed responsibility for other sword attacks in Jaffna and reasoned that those attacked were violent towards women.
The group stressed that punishment will be meted- out to those engaged in activities that would destroy the social norms and ideas in Jaffna. "We, as Tamils cannot witness the destruction of our culture in Jaffna which is considered "the land of culture" of Tamil Eelam," a rough translation of the poster read.
The group also hinted that Tamil policemen would not be spared if they were to be part of the acts which were considered a detriment to the society. "Although there were certain Sinhala Police Officers who supported the tragic incident the Tamil Police Officers played the lead role. According to the orders of Judge Ilancheliyan we will mete out appropriate punishment to all the Tamil Police Officers who carried the shooting under the direction of Sub Inspector Srigajan," the poster said.
The sword attacks were a measure of preventing social evils in the peninsula which saved many villages from robberies and burglaries and many women from violence, the group claimed.
In statement previously, the police claimed the policemen were injured while trying to stop a robbery.(Pradeep Kumara)