---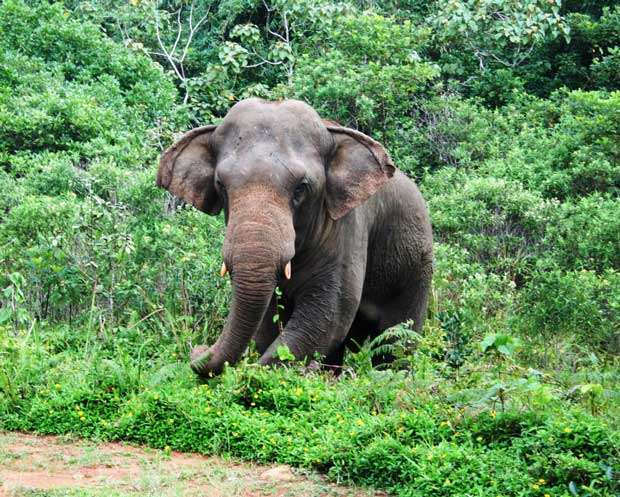 Sinharaja: Last vestige of primary tropical rain forest
Extinction due to changes in feeding patterns
Lack of historical data a major drawback
20 out of 26 endemic birds in Sinharaja

A recent attempt to relocate two rare elephants from the Sinharaja Forest Reserve created a controversy within environmentalists as the UNESCO would de-list the area as a world heritage site. This led to the intervention of the President who issued a directive that the move to relocate the elephants should be suspended until a proper scientific study was done on whether this transmigration would lead to the extinction of this rare species.

The UNESCO in 1978 designated the Sinharaja Forest Reserve as a biosphere reserve and a world heritage site.

SINHARAJA FOREST RESERVE
Sinharaja is a national park and a biodiversity hotspot in Sri Lanka and the International Union for Conservation of Nature (IUCN) has identified it as the last vestige of primary tropical rain forest with more than 60 per cent of the trees are endemic or rare.

This hilly virgin rain forest is only 21kms (13mi) from East to West and a maximum of 7kms (13mi) from North to South, but it is a unique area of endemic species including trees, insects, amphibians, reptiles, birds and mammals. Wildlife is not seen easily because of the dense vegetation as in the dry-zone national parks like Yala. According to Wikipedia, there were three elephants and 15 leopards, and the common mammal is the endemic purple-faced Langur. One elephant cannot be accounted for at present.

There are 26 endemic birds in Sri Lanka, of which 20 rain forest species occur in Sinharaja. Reptiles include endemic green pit viper, hump-nosed vipers and also rare variety of amphibians, especially tree frogs. There are also invertebrates like common bird wing, butterfly and leeches.

ELEPHANT POPULATION
The Sri Lanka elephant (Elephas maximus maximus) is the largest four subspecies of Asian elephants. Historical records show that a large wild elephant population was known to inhabit the island for past centuries and there was a tradition of domestication.

The population figures in 2006 were as follows; Elephant range - 15 000 Km2; Country ranking - 7 of 13; Total wild elephants – 2100-3000; Country ranking 4th, 5th of 13; Total captive population – 200-250 and country ranking 7th of 13 (Source: R. Sukumar - A Brief review of the status, distribution and biology of wild Asian elephants Elephus maximus International Zoo Yearbook 2006)
My recommendation is to move these elephants from Sinharaja to be taken care of separately in an elephant orphanage, so that our specialists could study their anatomical changes and aggressive nature

FOREST COVER AND BIO-DIVERSITY
In 2005, the forest cover was 1,933,000 (ha), out of a total land area of 6,463, 000 (ha) and was 29.91 per cent. However, the primary forest cover is only 167 000 (ha) which is only 8.64 per cent of the total forest and only 2.58 per cent of total land area. This area is the most bio-diverse form of forest (Source: MONGABAY.COM).

Sri Lanka has some known species of amphibians, birds, mammals and reptiles. Of these, 21.7 per cent are endemic, meaning they exist in no other country and 11.9 per cent are threatened (World Conservation Monitoring Centre). Sri Lanka is home to at least 3,314 species of vascular plants of which 26.9 per cent are endemic. 9.6 per cent is protected under IUCN categories 1-V (IUCN Red List of Threatened Species http://www.iucnredlist.org/static/castegories-criteria_3_1)

SINHARAJA ELEPHANTS
The two elephants seen in the print and electronic media resemble an elephant measuring about 5 feet in height and resemble a dwarf elephant seen in the dry zone, especially around the Kataragama hill range.

"The elephant's small stature was due to disproportionately short legs, according to the findings published in the IUCN/SSC Asian Elephant Specialist Group Journal Gajah. It was observed that this elephant was seen in an aggressive encounter with another male of average size. The dwarf was by far the main aggressor in an altercation and appeared to be older than the other a young adult," the study states.

"If you think about it, most animals, especially mammals, are either predators or prey. If you are either and are born with short limbs you would be at a very big disadvantage," Prithiviraj Fernando of the Centre for Conservation and Research and one of the authors of the paper told MONGABAY.COM
A dwarf prey animal is likely to be caught by a predator and similarly, a dwarf predator would find it very difficult to catch prey. So such individuals are very unlikely to survive in the wild. Elephants in Sri Lanka are unique (together with those in Borneo) in that they have no predators, so he was very lucky that he was born here." (Article by Tiffany Roufs https://news.mongabay.com/2013/12little- elephant-is-the-first-scient...). Citations – Wijesinghe, R. Hapuarachchi, Abbot, B. Pastorini, J. and Fernando. 2013 Disproportionate dwarfism in a wild Asian elephant.Gajah.38, 30 -32 URL:http://www.asesg.org/garjh38.htm)

RECOMMENDATIONS
From the above facts, it is most likely that the two or three elephants at Sinharaja can be grouped under dwarf elephants or "Kuru Ali" that roam about in the dense forests of Kataragama, and I personally encountered one of them during my field surveys as a geologist mapping the area in 1965.
It is now revealed that in 2013 a group of scientists had studied these elephants that are aggressive. It is also likely that there had been more of this variety (Elephas maximums) but got extinct due to change in feeding patterns with climate change.

Scientists are now concerned over climate change as it causes the shifting of the natural cycle of life and with the rise in global temperature, it may cause plants to produce fruits and flowers during off seasons. However, lack of historical data and continuous monitoring of these changes in Sri Lanka is a major drawback.

In this article, I have attempted to prove that the two or three surviving elephants are unique and should be preserved. It is most likely that they will not survive in their present surroundings with rise in temperature that will have an adverse effect in their surroundings and the lack of preferred feeding grounds.

My recommendation is to move these elephants from Sinharaja to be taken care of separately in an elephant orphanage, so that our specialists could study their anatomical changes and aggressive nature.

I hope this will not cause any agitation among the conservationists and lead to "mobo-cracy" a significant part of democracy in Sri Lanka. It is also recommended whether the scientists could locate more of these dwarf elephants that are now with the Handapangala herd and would have survived. Areas around Kataragama are a good bet to look for more of these dwarfs or "Kuru Ali."

(The writer is a retired economic affairs officer at the United Nations ESCAP and can be contacted via [email protected])