---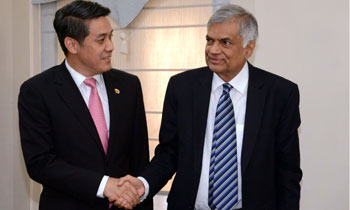 Several denominations of new currency notes are to be issued to mark the 70th anniversary of Sri Lanka's independence next year, Prime Minister Ranil Wickremesinghe said yesterday.
Prime Minister Wickremesinghe revealed this during his visit to De La Ru Lanka Currency and Security Print (Private Ltd) in Biyagama yesterday. The company holds the rights to print currency for the Government of Sri Lanka as well as several foreign governments.
"You were denied access to the premises of this company because several new bank notes that are to be issued to mark the 70th anniversary of Sri Lanka's independence are being printed here. In addition this company prints currency for countries such as Ghana and Venezuela. These processes are confident which is why the media is not allowed inside," the Prime Minister told journalists after his visit to the company situated in the Biyagama Export Processing Zone last evening.
He said the company will also start printing passports in a few months time. Cutting edge microchip technology is to be used for the new look passport that is to be printed by them. "This company has been entrusted with the task of printing the new Sri Lankan passport in few months time. Microchip technology will be used for the new passport. It will contain the fingerprints and other details of the passport holder. This company first came to Sri Lanka in order to print currency but it has now diversified its portfolio of activities. The company might get contracts to print foreign passports as well," Mr Wickremesinghe added.
"The intention of the government is to help businesses to diversify and grow," he said.
De La Ru Lanka Currency and Security Print (Private Ltd) is a joint venture between Thomas De La Ru of Hampshire, England and the Sri Lankan Government. It started its local operations in 1986. (Yohan Perera)