---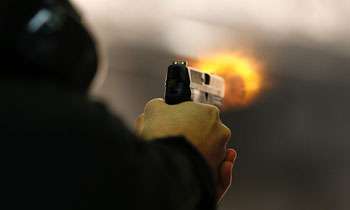 Manel Rohana alias Thilak, an accomplice of underworld figure Makandure Madush, was shot dead during a shootout at Kamburupituya in Matara this evening, Police Spokesman SP Ruwan Gunasekera said.
Speaking to the Daily Mirror, he said the victim was shot dead during a shootout in the Wilpita Forest Reserve.
On a tip-off, the special team of Special Task Force (STF) officers went to the Kamburupitiya area in search of an armed gang roaming in the area.
"The STF officers after obtaining details about the roaming gang and put a roadblock in Wilpita area in Matara Akuressa road. At that time the STF was looking for a three-wheeler heading towards Kamburupitiya from Akuressa at 7.45p.m," the Spokesman said.
"The three-wheeler had passed the roadblock ignoring STF orders. Then an STF vehicle followed the three-wheeler. The three-wheeler went towards the Wilpita forest reserve and STF vehicle was attacked," SP Gunasekera said.
Then the STF retaliated the three-wheeler. Later found one injured suspect and was succumbed to his injuries at the time of admission to the Kamburupitiya hospital. The other persons who were in the three-wheeler had escaped to the forest reserve. Meanwhile, the STF has launched a special search operation in the area to apprehend the escaped suspects.
The victim was found with a T-56 gun and identified as Hewa Suduhakuruge Manel Rojhand alias Thilak who was a resident of Horapawita, Kamburupitiya.
Later the STF officers had identified the suspect as a close associate of notorious underworld figure 'Makandure Madush'.
SP Gunasekera said the victim was the main suspect who carried out underworld operations in the Southern Province under the guidance of Makandure Madush. (Chaturanga Samarawickrama)
Video by Susantha