---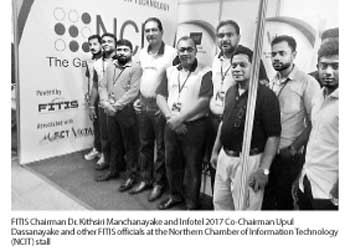 BY Timothy A. Edward
The Federation of Information Technology Industry Sri Lanka (FITIS) had their flagship Infotel exhibition for the 25thsuccessive yearwith many novel and innovative features at BMICH from Nov 2 - 5.

A record number of more than one hundred stallholders kept capturing the curiosity of students and women, young and old alike with their novel ICT solutions. The main objective of this year's Infotel was to create a common platform for all government and private sector stakeholders to engage constructively and collaboratively to help transform Sri Lanka into a digitally inclusive country with better opportunities for all.

ICT apex bodies and national organizations such as FITISare getting involved intransferring appropriate technologies to make the much needed shift toward innovative, knowledge based business ventures. Infotel Co-Chairman 2017 Upul Dassanayaka sharing his thoughts on the exhibition said that FITIS received the support and cooperation of public and private organizations including different associated ministries to make it a success.

Highlights

Infotel 2017 showcasedhow we are gearing ourselves to keep pace with the key global digital trends such as big data, e-commerce, digital marketing, Internet of Things (IoTs), Machine-to-Machine (M2M), mobile advertising and cloud computing that are invading our lives.

The highlights of the exhibition were the many successful parallel events such as CxO forum, women in IT, start up pavilion and career guidance sessions. Commenting on ICT career guidance workshops, FITIS Education Chapter's Vajira Karunaratne said they were able to attracted nearly 4000 students and teachers. The main aim of the career guidance sessions which also included hands- on workshopswas to increase the awareness of ICT among students and teachers and to show them the important of learning ICT to face the future challengers and to enter availablejob opportunities in the ICT industry.

Ilham Marikar – a teacher from Puttlam had this to say about Infotel: 'For the past 20 years, I am involved in ICT Sector. Since 1997, in every class I insisted that students should visit exhibitions in Colombo. But, it never happened. But, this time with the intervention of FITIS, ICTA and WUSC we were able to send our students to participate. We did much more, even put up stalls and showed that Puttalam is not only famous for salt and coconut but also for software".

Another exhibitor had this to say: "We see Infotel 2017 as a great meeting hub for various stakeholders in the ICT industry. The event was extraordinarily conducted without any hassle. We feel that such events are really important to empower the SMEs of this country. Apart from the B2B and B2C relationships, the event enabled us to network with various bodies to enrich the ICT industry in the country and beyond. We owe a lot the key organizers for putting together such a splendid exhibition".

The other attractions were the e-sports pavilion, military innovation pavilion by tri forces, hardware and software solutions and ICT education and training pavilion. The IT Museum too drew a lot of interest.
INFOTEL 2017 also saw the Northern Chamber of Information Technology (NCIT) taking part in the exhibition for the first time, powered by FITIS and World University Service of Canada (WUSC) and in collaboration with Vavuniya Information & Communication Association (ViCTA) and Mannar Federation of Information & Communication Technology (ManFICT).

New Trends

There are a number of initiatives like Infotel that are being rolled out to make us a digitally inclusive nation. Plans are underway to introduce Electronic Identity (E-ID) cards, including various e-citizen projects to make women, entrepreneurs and older population techno savvy. Island-wide ICT Youth Clubs are mandated to encourage youth to gear up for available jobs in the ICT sector. The government has plans to digitalize the administrative system. It is also taking steps to make 13 years of school education compulsory while adding more technical subjects to the secondary education curricula and plans are underway to modernize the education sector with smart class rooms.

There is an heightened popularity to do transactions such as banking, doctor channeling, taxi hiring, real estate, hotel booking etc., via on-line. All these interventions, when fullyoperational will completely change the way we go about doing our day-to-day businesses and educating our children and youth.

E-Commerce revolution

Doing business via electronic commerce is becoming popular. The main reason for e-commerce to become so popular is because there are more connected devices than people today. Statistically, the world population stands at 7.2 billion and access to connected devices stand at 25 billion. It is projected by 2020 the world's population will become 7.6 billion and there will be around 50 billion connected devices in usage, which means every personmight end up having around 6 connected devices each. No wonder, e-commerce is fast becoming the most cost effective marketing mode, with reduced transactional costs, flexible business hours and low overhead costs.

Digital Marketing

We can see that traditional marketing strategies such as using the radio and TV, newspapers, magazines and direct mailing are being strategically replaced by social networks such as Facebook, Instagram, Google, YouTube, Twitter, LinkedIn, Pinterest etc. Properly planned, a digital marketing campaign can reach the targeted customer at much lower costs than traditional marketing.

In addition to e-commerce and digital marketing, the Internet of Things (IoT) is the other trend that is being frequently discussed these days. IoT is used everywhere. For example, it is utilized in remote health monitoring and in agriculture. It is also used in the creation of smart homes,smart lighting, home- automation, home security and in workplaces. The idea that any device can be connected to internet is a reality now.

The question we need to ourask ourselves is how prepared are we to face the digitalization revolution that is transforming the way we live, work and make decisions!