---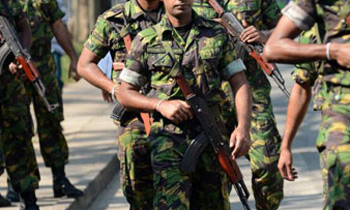 The tense situation which occurred in Gintota last night is completely under control, with law and order being established in the area, Law and Order Minister Sagala Ratnayaka said today.
In a statement, he said that additional Police battalions, the Police Special Task Force, the Anti-riot Squad and the military were called in last night to bring the situation under control.
"Under the instructions of the President and the Prime Minister, curfew was imposed in the area from last night until 9 am this morning. I am aware that some political groups are now on a desperate mission to turn this minor brawl into a Sinhala-Muslim clash. I urge the public not to be misled by their false propaganda," he said.
He said the same elements were now in the process of disseminating false videos and news on social media platformss to stir up communal sentiments.
"I reiterate that stern action will be taken against everyone attempting to resort to racist propaganda irrespective of their positions and political affiliations. The same will apply to the rumour-mongers trying to capitalise on this opportunity to achieve petty political gains," the Minister said.
The IGP has instructed the CID to identify the personnel who misuse social media to spread false news over the incident and to take stern action against them.
Meanwhile, police said that 19 suspects were arrested so far over the tense situation reported in the area yesterday.
Revealing the line of events which took place in the area leading to the violent incidents yesterday, Police Media Spokesperson Ruwan Gunasekara said the first incident had taken place on November 13, but it had no literal connection to the incidents that followed.
"On November 13, a Muslim woman and her daughter were hit by a motorbike driven by a Sinhalese man. All three were injured and hospitalised. They were discharged after treatments and the issue was settled outside the Police as the bike rider had given Rs.25,000 as compensation to the woman and her daughter. Thereafter, bike rider was released on police bail," he said.
On Thursday, an attack had taken place in retaliation over the accident. "However, no one with links to the accident was present at the scene which took place on Thursday in which one Muslim was injured," he said.
Later on, two houses owned by Sinhalese persons had been attacked and one Sinhalese individual had been injured. The chain of events had then escalated and was brought under control by Friday with the help of politicians and religious leaders.
"However, another violent incident broke out last evening. As a result, the curfew was imposed," he said adding the situation was under control now. (Lahiru Pothmulla)
Video by Anuradha Priyadarshana