---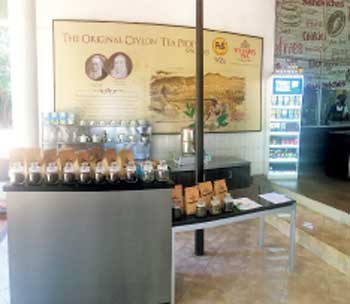 George Steuarts Teas recently tied up with Perera & Sons (P&S) to offer a range of the finest Ceylon Teas to its patrons in Dambulla.

The range included a variety of fruity teas, herbal teas, green teas and black teas. Some of the popular ones in the menu included Royal Delight, Sweet Berry, Jasmin Green Tea, Herbal Camomile and a range of ice teas.

Paddy Weerasekera, Chief Executive Officer – Consumer, George Steuarts & Co said, "We are extremely happy to partner with P&S, a reputed and well established organization. Dambulla is a city where there are a lot of visitors both local and foreign tourists and we see good potential for us to offer our range of products. The products offered by Steuarts Tea will no doubt further increase the experience of enjoying the perfect cuppa after a perfect snack/meal and we are looking forward to a longstanding partnership that would add value to both brands."

The range includes their export products, premium tea collection and an exclusive gift collection in wooden boxes, metal caddies and foil packs where some of them are not available at regular outlets. Customers are able tophysically examine the many varieties of tea for its textures, aromas and purchase them at the tea counter.
Kamal Jaimon, Director –Perera & Sons said, "Both companies have a great history going back over 100 years. We are delighted to have been able to work together to provide a great tea offering in our outlets by this partnership and we hope to replicate this concept to our other key outlets in the future"

George Steuart Teas is a subsidiary of George Steuart and Company, the oldest mercantile establishment in Sri Lanka (since 1835), which has been involved with the Tea Industry for well over a century. As one of the top tea exporters exporting to over 50 countries locally markets the best pure Sri Lanka Tea to the delight of the Sri Lankan consumer under the brands 'Steuarts Tea' '1835 Steuarts Ceylon' and 'Rosa Kahata'.