---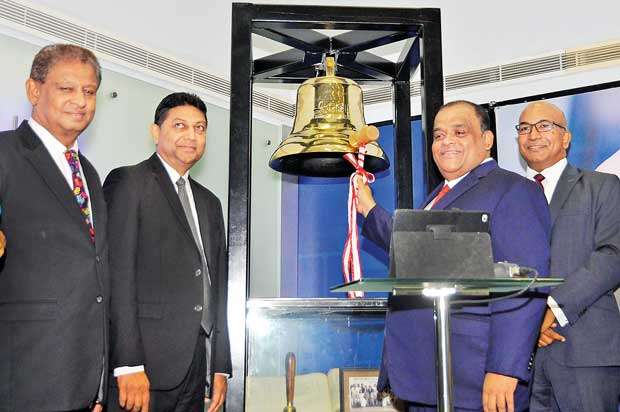 By Nishel Fernando
The government may need to re-evaluate the effectiveness of the recently introduced targeted capital allowances under the new Inland Revenue Act that replaced the tax holidays to attract both local and foreign investments, Vallibel One PLC Chairman and business tycoon Dhammika Perera said.

Taking part in the bell ringing ceremony at the Colombo bourse trading floor to mark Vallibel One PLC's inclusion in the S&P 20 Index, yesterday, Perera noted that the capital appreciation allowance lacks certainty compared to the tax holidays, which were guaranteed by the Board of Investment (BOI) in a binding agreement with investors.
"There is no guarantee for investors that the capital appreciation allowance would remain in force during their investment period. It could be abolished in the next budget.

Previously, the agreement with the BOI ensured that the investors would receive tax incentives during the investment period. However, there is no such guarantee under the new act," he pointed out.
Perera stressed that the government should take measures to communicate to the investors that the capital allowances would be valid throughout the investment period via binding agreement, even if the government amends or replaces the tax law.

Meanwhile, injecting much positivity to the audience, Perera noted that Colombo, which contains 5 percent of the population of the island nation, is on route to achieve developed city status, reaching US $ 12,650 per capita income in three years, on par with city states such as Hong Kong and Singapore.

In that backdrop, he stressed that the main challenge for the government would be to expose the rest of the population in the country to the same level of development.

Perera suggested that the government should launch a district-level development strategy to achieve this goal as each district possesses unique characteristics different to others to drive economic growth.

He stressed that employment generation and boosting the income level of the said 95 percent of the population remain crucial for Sri Lanka to move forward.

He reiterated that in order to achieve these goals, investments are crucial.

"In Jaffna, we have 28 percent plus 14 percent dividend tax; how can we create new employments in Jaffna?" he questioned. Commenting on the controversial statement made by State Minister Vijayakala Maheshwaran, Perera pointed out that there's a root cause, which led her to make the particular statement.

"We have to look at how districts such as Jaffna and Anuradhapura can achieve this US $ 12,650 per capita income; otherwise people will not be satisfied," he said. Meanwhile, Perera insisted that the government should adopt a policy to encourage budget airlines to come to Sri Lanka as 75,000 out of 90,000 hotel rooms in Sri Lanka are classified as non-star or rooms that cater to budget tourists, citing Malaysia and Thailand as examples, which benefit from budget tourists.

"Everybody is saying we need to attract high-spending tourists. However, how can we expect these high-spending tourists to occupy these 75,000 rooms?" he questioned.
---
Adoption of AI & BI is key
Sri Lanka's corporate sector should embrace disruptive technologies such as artificial intelligence (AI) and business intelligence (BI) to face the rising operational costs arising from market conditions, Dhammika Perera said.

Perera announced that Vallibel One PLC and other related companies are prepared to face 8 percent cost increase with a five-year cost reduction strategy, capitalising on the AI and BI technologies, without passing on the cost to the consumer.
"We are confident that with the cost reduction programme, whatever the challenges the economy faces during the next five years, we will be stable."

Perera revealed that Vallibel One PLC would hold the first board meeting utilising the BI tools next month, along with capitalising on limited AI technology and expressed his confidence that in six months' time Vallibel One PLC and other companies would be able to fully utilise the BI tools and AI technology to conduct board meetings.

"It might be the first board meeting to be conducted in Sri Lanka utilising AI," he noted.

He said in order to fast-track technology adoption, Vallibel One is recruiting experts who are specialised in the related industries, which otherwise might take up to one year to be implemented.
He noted that for a three-month pilot project, Vallibel One is flying in two data scientists from India and Europe, to Sri Lanka.

Furthermore, Perera pointed out that in terms of adoption of disruptive technologies, Vallibel One PLC has been able to narrow the gap when compared to the leading multinational conglomerates such as Hitachi.

Elaborating how the adoption of these disruptive technologies would enable the cooperates to cut down their costs, he said, "At Royal Ceramics Lanka PLC (Rocell), though we come up with around 200 designs annually, only 60 designs takes off.

However, with AI, we only have to create 80 designs to take off 60 designs compared to 200. Hence, we will be able to do large-scale cost cutting through this. This is an example for other companies as well."

Perera emphasised that it doesn't require a large budget to integrate these technologies into operations of companies. Meanwhile, commenting on the market conditions, he asserted that Vallibel One PLC is focusing on building the net asset value of the company rather than promoting company shares through marketing tools.

"The net asset value of the company has gone up to Rs.42 now. There's no point at looking at the market; we are focusing on building our asset value," he said.

Perera pointed out that share value appreciation through marketing tools could lead to the "roller coaster" effect, adversely impacting the retail investor.

He also emphasised on the importance of the affordability for retail investors.

Further, he said that the economic performance of a country shouldn't be an excuse for weak corporate performance, unless a company has a 100 percent monopolised market.

"A good example is Singer; the market is down by 2 percent and however, we achieved a growth of 15 percent," he said.

Perera also endorsed the trade liberalisation initiative of the government. He noted that as a result of the reduction of the import cess, Lanka Tiles was able to import from three original equipment manufacturing locations in India, about 120 containers monthly, becoming the largest importer of tile, in addition to being the largest manufacturer.