---

MS trying to mend fences with the Rajapaksa brothers in a bid to topple Ranil
Prez says Ranil working hard to undermine him despite adherence to basic principles of a coalition government
By
D.B.S. Jeyaraj
Ranil Wickremesinghe is Green!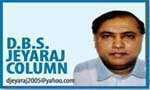 Mahinda Rajapaksa is Blue!
President Maithripala Sirisena,
Which political colour are you?

Former British Prime Minister and renowned statesman Sir Winston Churchill in a memorable radio speech over the BBC in 1939 referred to Russia in this way - "It (Russia) is a riddle, wrapped in a mystery, inside an enigma." Keen observers of the current political scene in Sri Lanka may very well be excused if they veer around to the viewpoint that the island's current Executive President too fits Churchill's description of being a riddle wrapped in a mystery inside an enigma.

ENIGMATIC MYSTERIOUS RIDDLE
The main reason for President Sirisena being perceived as an 'enigmatic mysterious riddle' is due to the UNP redictable and somewhat unorthodox political conduct of the "Polonnaruwa Potentate." It was only last week that this column described this peculiar political tendency in these words - "The perplexing political conduct of Sri Lankan President Pallewatte Gamaralalage Maithripala Yapa Sirisena has in recent times defied many norms and values of conventional politics. The turns, twists and turnarounds of the President are unfathomable to many. So uncertain have Maithripala's political moves and manoeuvres been that the only certainty about Sirisena is his uncertainty. Many are his topsy-turvy inconsistencies. He has been consistent in his inconsistency."

Although the above stated words were written in a different context pertaining to President Sirisena's performance (or non-performance) at the United Nations General Assembly in New York, the words in essence are applicable to many other acts of omission and commission by him in diverse situations too. The latest being the initiative undertaken to mend fences with the Rajapaksa brothers in a bid to topple Ranil Wickremesinghe.

Last week on October 3, Maithripala Sirisena enacted an intriguing political drama that left political observers and onlookers baffled and perplexed. President Sirisena went alone to former Cabinet Minister S.B. Dissanayake's residence at Battaramulla where he met former President Mahinda Rajapaksa along with his brothers Basil and Gotabaya for a political tete–a-tete. The discussion was about the prospects of Sirisena realigning politically with the Rajapaksas, removing of Ranil Wickremesinghe as Prime Minister and the setting up of a new coalition government under a new premier. The conclave did not arrive at any definite conclusions but did end on an optimistic note for now.

JOURNEY TO MEDAMULANA
A meeting between the former and current Presidents was not a rarity. There have been many occasions in the past where both Mahinda and Maithripala have interacted with each other in public. On August 25 this year, President Sirisena journeyed to Medamulana in the Hambantota District to pay his respects at the funeral of the late ChandraTudor Rajapaksa. Maithripala Sirisena was received by the Rajapaksa brothers Chamal, Mahinda and Gotabaya. Basil, then in the USA, was not present. Sirisena engaged in an amiable conversation with Mahinda. An amusing incident occurred when an aide brought a cup of coffee and tried to give it to Mahinda instead of giving it first to the guest, Maithripala, as according to traditions of hospitality. An embarrassed Mahinda berated the helper and apologised to Maithri who smiled and said "That's alright." It transpired later that the aide had been instructed by the kitchen staff to serve the coffee to the 'Janadhipathithuma' or President. Since Mahinda is fondly referred to by his supporters as President still, the aide too mistakenly thought the coffee was for Mahinda and not Maithripala.

Even two days before the dinner at the Dissanayake residence, Maithripala and Mahinda had met in Colombo at a wedding. President Sirisena signed as witness for the groom Dilrukshan Jayasinghe and ex-President Rajapaksa signed on behalf of the bride Reshani Dangalla. The groom incidentally was the son of Anuradhapura District UNP MP and Women and Child Affairs Minister Chandrani Bandara. Both Mahinda and Maithripala were seen engaging in a cordial conversation at the event where several ministers and MPs were present.

FACE-TO-FACE MEETING
A face-to-face meeting between Mahinda and Maithripala with the objective of ironing out differences and forging an alliance had been in the pipeline for quite a long time. It was President Sirisena rather than Mahinda Rajapaksa who seemed more interested in unifying the various elements of the UPFA, SLFP, joint opposition and SLPP together. Efforts in this direction by Maithripala Sirisena's confidantes intensified after the February 2018 local authority elections where the Mahinda-led SLPP scored a triumphant victory while the Maithri-led SLFP fared miserably. Overtures on behalf of Maithripala were initially made by the influential Buddhist monk Ven. Medagoda Abhayatissa Thera. Subsequently, the mantle fell upon veteran politician and national list MP Dissanayake Mudiyanselage Sumanaweera Banda Dissanayake known as S.B.
Dissanayake. After strenuous attempts, SB succeeded in bringing about a preliminary meeting at his Battaramulla residence on October 3, 2018.
Although overtures for a 'unity' meeting with Maithripala were being made for a long time, Mahinda had been somewhat reluctant to move on the matter firmly -- a chief reason for this being the differences of opinion among Rajapaksa family members. Indeed, the main reason for relations between Mahinda and Maithripala souring had a 'Rajapaksa family' dimension to it.
It was President Sirisena rather than Mahinda Rajapaksa who seemed more interested in unifying the various elements of the UPFA, SLFP, joint opposition and SLPP together
Maithripala Sirisena despite his affinity towards Chandrika Kumaratunga strongly backed Mahinda Rajapaksa for the Prime Ministerial post in 2004 and as Presidential candidate in 2005. In doing so, he incurred the displeasure of Chandrika. Sirisena who served as the General-Secretary of the Sri Lanka Freedom Party (SLFP) was a trusted deputy of Mahinda who made him Acting Defence Minister whenever the President had to leave the country. It may be recalled that President Sirisena recently in New Yorkmade reference to the fact that it was he who was in charge as the Acting Defence Minister during the final two weeks of war with the Liberation Tigers of Tamil Eelam (LTTE) in May 2009.

ACTING DEFENCE MINISTER
During his stints as Acting Defence Minister, Maithripala Sirisena built up a healthy working relationship with the then Defence Secretary Gotabaya Rajapaksa. The rapport established then exists even today despite the prevailing political differences. On the other hand, Maithri's interpersonal relationship with another Rajapaksa sibling Basil has had its stresses and strains. This began from the time both Basil and Maithripala worked together as office bearers in the All-Island SLFP Youth Organisation. Basil was the General-Secretary and Maithripala the Treasurer. Later when Basil crossed over to the UNP at the time of the 1982 Presidential elections, Maithripala succeeded him as General-Secretary. Sirisena's relationship with elder brother Chamal has been somewhat steady being neither too close nor too far apart.

After the 2010 Presidential and Parliamentary polls, Maithripala Sirisena had hoped to become Prime Minister under President Mahinda Rajapaksa. Basil however staked his claim and it appeared that Mahinda was inclined to prefer Basil over Maithripala. It is believed that Maithripala appealed to Gota who put in a good word for Maithri and objected strongly to Basil being made premier. Mahinda was in a dilemma. Finally, he resolved it by choosing the veteran Kandydistrict MP D.M. Jayaratne as Prime Minister instead of both Basil and Maithripala. Sirisena however smarted from the slight and apparently nursed a grudge silently against Mahinda and Basil. Biding his time with quiet desperation, Sirisena waited for a suitable opportunity. It came years later in November 2014 when he was picked as the prospective common opposition candidate. Sirisena partook of an egg hopper dinner with Mahinda Rajapaksa and crossed over the following day. He challenged Mahinda at the hustings on January 8, 2015and emerged victorious. The rest is now history!

So when overtures were sent on behalf of Maithripala for rapprochement and possible political realignment, the Rajapaksas had mixed feelings. It is learnt that Mahinda played his cards close to his chest and solicited the views of family members without revealing his line of thought on the matter. Elder brother Chamal was somewhat indifferent. He did not object to some sort of reconciliation but was averse to any form of a tie-up with Maithripala. Eldest son Namal who had earlier collaborated with Maithripala in the ill-fated exercise to defeat Prime Minister Wickremesinghe through a No-Confidence motion was supportive of a working relationship with Maithripala. According to some sources, Shiranthi Rajapaksa too was amenable to the suggestion. Gotabaya who had continued to maintain a line of communication with Maithripala welcomed a tactical alliance with Sirisena. It was opined that the President could be a useful ally in dealing with the various investigations and legal action being mounted against the Rajapaksas. Basil however was unwilling.

SRI LANKA PODUJANA PERAMUNA
There was little love lost between Basil and Maithri even when they were together in the same political camp. Basil's antipathy towards Maithripala had exacerbated after the latter's crossover which the former viewed as a treacherous betrayal. Basil's political stock however had risen considerably after the local authority polls victory. The Sri Lanka Podujana Peramuna (SLPP) with the Lotus bud symbol was Basil's brainchild and baby. G.L. Peiris was the de jure chairman but the de facto leader was Mahinda Rajapaksa. Likewise Sagara Kariyawasam, the son of former Bentara-Elpitiya MP and Deputy Minister Albert Kariyawasam was the Secretary but the de facto controller of the SLPP was Basil Rajapaksa. Basil the shrewd political tactician was the mastermind and architect of the 'Pohottuwa' party victory at the local polls. Basil had turned the newly-formed party into an election-winning juggernaut. This had enhanced his political clout and importance in recent times.
There was little love lost between Basil and Maithri even when they were together in the same political camp. Basil's antipathy towards Maithripala had exacerbated after the latter's crossover which the former viewed as a treacherous betrayal
Hence, it was of utmost importance that Mahinda had the concurrence of Basil in whatever major political endeavour he proposed to engage in. Both Basil and Gotabaya had left for the USA for three-month stays in July. They were due to return in October this year but Gota cut short his stay and returned in August due to the demise of brother Tudor. Basil however stayed in the USas he was under medical treatment then. Although Basil was scheduled to return only in October, Mahinda got Basil down to Lanka in late September. This was for the ostensible purpose of revamping the party in anticipation of an early poll. One move being contemplated is for Mahinda Rajapaksa to take over the SLPP leadership formally. Another purpose was to explain the ramifications of a potential 'understanding' with President Sirisena and to explore resultant political avenues. Basil after discussions consented to preliminary meetings with Maithripala Sirisena but was adamant that there should be no political alliance with the President. It is presumed that while Basil and most of the SLPP stalwarts were opposed to any form of political union with Sirisena and the SLFP faction headed by him, many followers and fellow travellers of Gotabaya were of the view that a tactical alliance with Maithripala should be formed. Chamal agreed with Basil but Namal was supportive of Gota's stance.

WASANTHA AND DILAN PERERA
It was against this backdrop that the meeting between the Rajapaksas and Maithripala took place at Battaramulla. Mahinda and Basil were the first to arrive at the Dissanayake residence. They were welcomed by SB and two other Parliamentarians. One was Matale district MP Wasantha Lakshman Perera and the other was national list MP Dilan Perera. President Sirisena arrived next. Gotabaya was the last to arrive. When talks among the Rajapaksas and Sirisena commenced, the two Pereras retired to another room and did not participate in the discussions. SB too left the Rajapaksas alone and spent time with Dilan and Wasantha Perera. However he kept popping in at times to see whether his distinguished guests needed any further refreshments.
Basil after discussions consented to preliminary meetings with Maithripala Sirisena but was adamant that there should be no political alliance with the President

Although SB had procured sumptuous food from a catering establishment, neither Sirisena nor the Rajapaksas sat together at the table and had dinner. It is reliably learnt that egg hoppers was not on the menu. Maithripala, Mahinda, Gotabaya and Basil sat in the main drawing room and conversed while munching short-eats. Again, it is authoritatively learnt that cashew nuts were not made available for crunching. When SB asked his "guests" whether they would like "coffee," there was laughter all round as it revived memories of Maithri's "last supper" with Mahinda in November 2014. Basil said "let's drink green tea." It was accepted and so green tea was served. The discussion among the Rajapaksas and Sirisena went on for a little longer than an hour. Gota was the first to leave. He was followed a little later by Sirisena. Mahinda and Basil chatted for abut 15 minutes with SB, Dilan and Wasantha and left. Both brothers went to Mahinda's residence and had further discussions. Wasantha and Dilan Perera left after having dinner with S.B. Dissanayake.

LITANY OF WOES AGAINST RANIL
Since the meeting had been convened in deference to Maithripala's request, the President initiated the serious discussion after pleasantries were exchanged politely. President Sirisena started the ball rolling by reciting a litany of woes against Prime Minister Ranil Wickremesinghe and a few of his ministers including Finance Minister Mangala Samaraweera. Seemingly forgetting the fact that it was Ranil Wickremesinghe and the UNP which ensured his win in the electoral tussle with Mahinda Rajapaksa in 2015, Maithripala Sirisena faulted Ranil and the UNP ministers for everything going wrong with the government. In typical Maithripala lingo, the President said Ranil was working hard to undermine him despite his (Sirisena's) adherence to the basic principles of a coalition government. Though he was the head of State and head of government, the non-SLFP ministers paid little heed to him complained Sirisena. Mangala Samaraweera had flagrantly flouted many of his requests and instructions. He said the bureaucracy was not cooperating with him.
Speaking further, President Sirisena said the country was being mortgaged to international capitalists and imperialists. The problems of the common man in Lanka were not being addressed by the economic policies of Ranil, Mangala and Malik. Instead of providing relief to the ordinary people, they were being hard-pressed. The rupee was sinking while the cost of living was rising. Something had to be done urgently to salvage the country and save the nation. President Sirisena said he was unable to exert his authority and remedy the situation because he did not command a majority within government ranks. It was time for all political strands with SLFP roots to sink differences and join forces in the interests of the people and country stated Sirisena. Even while making this entreaty, President Sirisena carefully avoided mentioning two things explicitly. He did not call for an overthrow of Ranil Wickremesinghe. He did not espouse the need for a united interim government with Mahinda or his nominee as premier. However, Sirisena did appeal in a vague manner for cooperation.

Mahinda Rajapaksa responded to Maithripala by relating his own list of complaints against Ranil and the coalition government conveniently glossing over the fact that Maithripala was the head of government. Mahinda pointed out that there was practically no governance in the country and that everything was going from bad to worse. He outlined a number of investigations and cases being conducted against members of the Rajapaksa family. Mahinda said this was being done so as to prevent the Rajapaksas from spearheading a popular political renaissance against the government. However, the people saw through all these antics. If elections were held, the people would show what they thought of the government through ballot boxes, reiterated Mahinda.

MAHINDA PRE-EMPTED MAITHRIPALA
Speaking further, Mahinda Rajapaksa broached the subject of cooperation. Anticipating what Sirisena may have proposed next, the Medamulana Machiavelli, pre-empted Maithripala by touching on the topic of cooperation himself. Mahinda said several SLFPers in the government had lamented about the government performance and had suggested a closing of ranks between both factions of the UPFA and SLFP to counter the UNP and Ranil. This however was not possible at this juncture, said Mahinda. "We cannot support or cooperate with the SLFP led by you (Sirisena) as long as the party is part of a UNP-led government" stressed Mahinda Rajapaksa. He also said a decision of this type could not be taken without consulting the party.

Taking his cue from Mahinda's reference to consulting the party, Basil Rajapaksa chipped in. The dynamo behind the 'Pohottuwa' told Maithripala Sirisena that the SLPP had demonstrated that it was more popular among the people than the UNP or the SLFP through the recent local authority elections. Such a victory was possible only because of party members and support from the people at large. As such, any major decision cannot be taken without consulting the rank and file of the party. Speaking further, Basil said he believed in defeating or transforming the government through the verdict of the people only. He preferred to defeat Ranil and the UNP electorally instead of relying on a political horse deal in Parliament to replace them. Basil also emphasised to Maithripala that they had agreed to meet with the President as a matter of courtesy only because they respected him and not because they wanted to engage in a political conspiracy.

MAHINDA FLINGS DOWN GAUNTLET
Continuing from where Basil left off, Mahinda told Maithripala that no decision could be made by them without consulting party members and key supporters. The ex-President told President Sirisena bluntly that his (Mahinda's) loyalists needed to be assured of Maithripala's serious intentions in this regard before plunging into any action of their own. Elaborating further, Mahinda said Sirisena and the SLFP led by him must demonstrate genuinely that they were opposed to Ranil and the UNP before enlisting the support of the SLPP and joint opposition. It was not possible to align with the SLFP as long as that party was part and parcel of the present government. Mahinda then told Maithripala, "The UPFA and SLFP which are under your formal leadership must first pull out of the present UNP-SLFP government. If that is done, then our people will be convinced that you really mean business this time and I will find it easier to get their full cooperation and support." Having said this clearly and unambiguously, Mahinda flung the gauntlet down at Maithripala, "Prove your determination in this matter by urgently summoning a meeting of the UPFA and the SLFP and officially deciding to pull out of the government." Maithri was left speechless.

Apart from this key issue, some other topics were also discussed at the meeting. Chief among them was an issue raised by Gotabaya Rajapaksa. The ex-Defence Secretary reminded Maithripala that he had informed the President of a conspiracy to assassinate Sirisena and himself almost two months ago, but no constructive action was taken. The alleged conspiracy however received a blaze of publicity after the person known as "Namal Kumara" had publicised it in the newspapers. Gotabaya said a plot to assassinate the President was a very serious concern and it was UNP ardonable that a responsible government did nothing. Mahinda and Basil too endorsed Gotabaya's viewpoint and told Sirisena, "We may have our political differences but we treat any threat to your life as something despicable. Proper investigations must be done and action taken."
Sirisena responded by telling Gotabaya that he had informed the Defence Secretary Kapila Waidyaratne immediately after the ex-Defence Secretary had informed him but very little follow up action was done. The President hinted that a new Defence Secretary would have to be appointed soon. He also condemned IGP Pujith Jayasundara as a "joker" and blamed much of the alleged lethargy displayed by the police to the IGP. Sirisena said the IGP was being protected by the Prime Minister. However, President Sirisena said a new IGP would be appointed very soon. There were also discussions about the Chief Justice position, the Supreme Court, the Attorney-General's Department and the Constitutional Commission.

BASIL RAJAPAKSA IN CHARGE
As stated earlier, Mahinda and Basil Rajapaksa had a separate discussion among themselves after the Maithripala meeting was over. In that fraternal dialogue, Basil once again emphasised that they need not try to topple the government through a realignment of political forces in Parliament and that it would be better to have the sanction of the people through elections. Mahinda agreed but said they could try and force the pace of polls if possible through a show of strength within Parliament. However, both agreed that given the No-Confidence motion fiasco the move may prove counter productive if it failed. Both Mahinda and Basil were firmly of the opinion that any forward movement in this matter should be predicated on Maithripala Sirisena pulling out the SLFP led by him out of the government headed by him. It was also decided that Basil Rajapaksa would be in charge of any future negotiations with President Sirisena or other SLFP stalwarts in this exercise.

Meanwhile, news of the Maithripala-Mahinda meeting began appearing in different forms in different sections of the media. Speculation about a Mahinda-Maithripala partnership and setting up of an "interim" or "caretaker" government caused convulsions in the Mahinda, Maithripala and Ranil camps. The reaction in the Mahinda camp was extremely hostile towards the notion of a realignment with Sirisena. To the average Rajapaksa loyalist, Maithripala is a traitor who backstabbed Mahinda and joined forces with the UNP to bring about a defeat of the SLFP. No re-union was possible with Sirisena. Besides, Mahinda should not accept Maithripala's leadership in any form. Mahinda Rajapaksa allayed these concerns at the meeting of 41 SLFP Parliamentarians and said nothing had been decided upon and that no decision would be taken without the consent of the party. It was resolved that Mahinda would be the sole authority to finalise any decision on this issue.

There was much consternation and indignation within UNP folds too. As in the case of Mahinda loyalists who perceive Maithripala as a treacherous backstabber, there are many in the Ranil-UNP camp who view Sirisena as an ungrateful upstart who has kicked the ladder on which he climbed to the top. Several UNPers began blasting Sirisena. In a bid to assuage hard feelings, Sajith Premadasa issued a statement expressing hope that President Sirisena would not betray the mandate he received from the people in January 2015. Premadasa in recent times has reportedly grown closer to Sirisena. Some UNP bigwigs however were not prepared to let Sirisena off the hook so easily. They have reportedly resorted to "clandestine" negotiations with some MPs in the Sirisena camp. It is being speculated that about 6 to 10 SLFP Parliamentarians would remain with the government if and when Sirisena decides to pull out the party from the coalition government.

RANIL WICKREMESINGHE "CAPT COOL"
Although the UNP in Sri Lankawas perturbed over these developments, its leader and Prime Minister Ranil Wickremesinghe kept his cool and was seemingly unfazed. Ranil had departed from Sri Lankan shores on the morning of October 3 on a visit to Norwayand Britain. Sirisena's meeting with the Rajapaksas was on the same evening. When an excited senior UNP minister telephoned Ranil to break the news about Sirisena's meeting with Mahinda, Ranil seemed disinterested and replied nonchalantly, "Wena Monawada?" (what else). When the minister told Ranil that according to reports, Maithripala had said he would set up an interim government without him as Prime Minister, the UNP leader's response in "captain cool" style was "Eya Kiyana Ewwa Koranna Nahe Ne?" (he does not do whatever he says).

All this makes the 'spotlight' beam on Maithripala Sirisena. The onus is on him to demonstrate that he is genuinely determined to remove Ranil Wickremesinghe as Prime Minister and set up a reconfigured government under the premiership of Mahinda Rajapaksa or his nominee. The Rajapaksas are subjecting their one-time 'nemesis' to a trial by fire. Maithripala Sirisena must prove his bona fides to the Rajapaksas by formally pulling out the SLFP from the government. The bottom line in this sordid exercise is that Mahinda does not trust Maithripala and vice versa. D-day will be October 16 when SLFP parliamentarians and key office bearers are scheduled to meet. What will the SLFP decide and what will Maithripala Sirisena do thereafter? Above all how will the western nations and Indiacountenance this envisaged Mahinda-Maithripala realignment? Que Sera Sera!

D.B.S. Jeyaraj can be reached at dbsjeyaraj@yahoo.com