---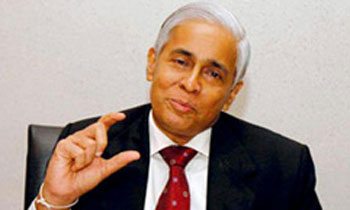 In another conundrum to the present gridlock in governance, former Chief Justice Sarath N. Silva argued yesterday that the entire Cabinet including the Prime Minister stood illegal at the moment as the two year period stipulated for the national unity government had ceased.
The former Chief Justice told the Daily Mirror that the Cabinet should be restricted to 30 and the number of deputy and state ministers to 40 in terms of the 19th Amendment to the Constitution.
However, he said there was a separate constitutional provision to increase the number to 45 Cabinet Ministers in the event of a national government.
He said Prime Minister Ranil Wickremesinghe moved a resolution in Parliament for the establishment of a national government in conformity with an agreement signed between UNP General Secretary Kabir Hashim and SLFP General Secretary Duminda Dissanayake.
As the entire two year period stipulated for the unity government lapsed in December, he said, the entire Cabinet had been rendered illegal at the moment.
"Interestingly, the parties that were in the national government went before the people at the local government elections separately," he said.
He said the President now had the power to appoint someone commanding parliamentary majority, in his opinion, as the Prime Minister.
"Then, the Cabinet Ministers can be appointed on the Prime Minister's advice," he said. (Kelum Bandara)