---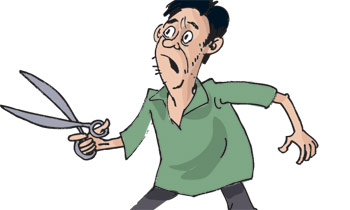 Mathurata Police reported that an individual had entered the Dehipay Junior School in the Mathurata Police Division yesterday (18) in the morning and assaulted a child studying in the third grade because one of the straps of the school-bag belonging to his child had been cut with a scissor by this child.
When this individual appeared in school with a scissor hidden on his person, the child had hidden inside a toilet to escape from him. Subsequently this person had come to the toilet, dragged the child out, taken him to the classroom before assaulting the child and leaving the school thereafter, police said.
There had been no teacher present in the classroom at the time this incident took place as school had not yet commenced. Subsequently the principal and the teachers of the school had arrived and administered first-aid to the child.
Police investigations have commenced after a complaint was lodged by the injured child's parents. Police investigations are being conducted by the OIC of the Mathurata Police Station, G.K. Gunasekera. (A.K. Karandagolla - Hanguranketha)