---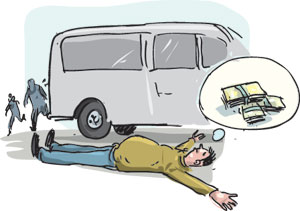 It was about 6 o'clock in the evening. A luxury van used to transport foreigners on its way to Colombo stopped in front of a fruit stall in Galle. The driver of the vehicle got down from the vehicle clutching his chest. He claimed he was experiencing a chest pain.
He was given first-aid by by-standers. The driver told his helpers that his purse, the key to the vehicle and his mobile phone were inside the van. After receiving first-aid, he was taken to a hospital close by. On his insistence, a call was taken on his mobile phone to inform his wife of his plight. After some time, the owner of the vehicle arrived at the place where the van was parked. He is a resident of Mahamodera. He opened the door of the van and checked the purse that was still inside. To his knowledge there should have been at least rupees eight hundred and four thousand in the purse. But to his dismay he did not find a cent.
This driver was driving some foreigners to several locations and had been paid Rs. 804, 000 for a three-week-long trip a foreign family who had been staying in Unawatuna had given him.
The day after he was discharged from the hospital the police took him into custody. It was discovered that he had actually not suffered a heart attack and had tried a fast one on the owner of the van. The suspect is a resident of Bandarawela aged 38. The foreign family had also came to the police station and made a statement to the police saying that they paid him the money that had gone 'missing'. He reluctantly accepted that he received the money but claimed that someone must have stolen the money from the vehicle while he was receiving treatment.They say the best laid plans sometimes go awry. This is a good example of it.
OIC Chief Inspector Sujeewa Silva and SI Palitha Ranasinghe of the Special Crimes Unit of the Galle Police are conducting further investigations. The suspect was to be charged with criminal breach of trust. (D.G. Sugathapala)