---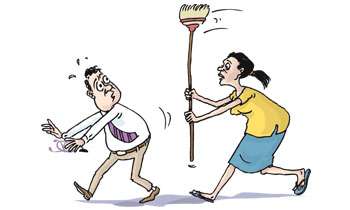 A doctor, who complained to the Kollupitiya police that he was beaten by his wife till a broomstick was broken, was found to have five paramours and thirteen children, during the police investigations.
It was revealed during investigations that he had three children from his wife and that he had been beaten by his wife when he came to take their two and a half-year-old child.
The suspect had taken the child despite his wife's beatings and had given the child to his second paramour, but the Kollupitiya police had mediated and given the child back to the wife.
It was further revealed that the suspect was an MBBS graduate doctor who had worked at a hospital away from Colombo and had given up his job.
His wife is reportedly residing at a house belonging to the doctor in Kollupitiya, with the three children. (Srinath Prasanna)