---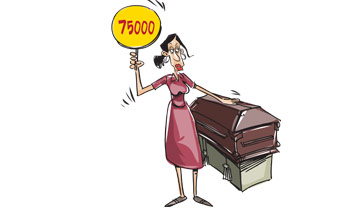 A daughter has solicited Rs. 75,000 from her mother to hand over the body of her father who had died at her house.
She had told her mother that she had already spent Rs. 75,000 for the funeral arrangements which has to be returned if the body is to be handed over to the mother.
The Giribawa Police said that the man had died at the daughter's house and she had made the funeral arrangements without informing her mother. The mother however, had got to know about her husband's death and gone to her daughter's house to take the body to her house.
By the time relatives and monks had visited the daughter's house and the daughter had stated that she would hand over the body to her mother only if the latter pays the money she had already spent on the funeral arrangements.
Finally the body was handed over to the mother without any payment being made with the intervention of the police.