---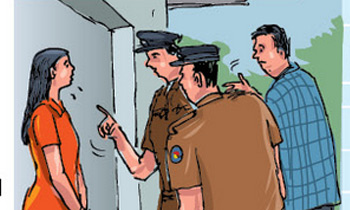 The Borella police have received a complaint from the fourth mistress of a millionaire seeking maintenance for her and her one and half-year-old child.
It is learnt that this individual has five mistresses in addition to his wife and has seven children from them. He appeared before the police on May 7 at the behest of the police, who also requested his 29-year-old mistress who is pregnant to come to the police station so that the matter could be resolved.
The complainant is a resident of Narammala. The millionaire, 60, admitted that he arrived at the police station with his sixth mistress.
It is learnt that he has been married to one of them. His wife has two children. The first mistress has two children, the second one, the third has one and the fourth and fifth were expecting.
"I was employed by him in his business operations. He promised to marry me. I took him at his word. I am pregnant by him. This is his child. After I got pregnant he started quarrelling with me and harassing me. After that, I was chased out of his home as well. I asked for an allowance from him to live. He has enough and more money. I was not given a penny. I inquired into his past. He has chased way his wife also. After that he started living with his mistresses, the mistress, who claimed to be his fourth, told police.(Srinath Prasanna Jayasuriya)