---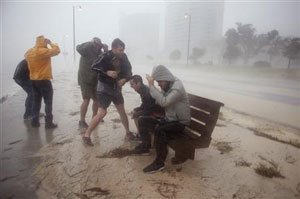 The Isaac weather system is expected to weaken further as it heads north on Thursday, having caused significant damage to the U.S. Gulf Coast but nothing on the scale of Hurricane Katrina, which devastated New Orleans in 2005.
The former Category One hurricane is likely to become a tropical depression on Thursday, and move over southern Arkansas by early Friday, the National Hurricane Center said.
As Isaac ebbs, post-mortems should show that an elaborate flood containment plan developed for low-lying New Orleans survived its first major test, seven years to the day after Katrina laid waste to large parts of the iconic city and killed more than 1,800 people.
And as the focus shifts from the coast, many further north will hope that Isaac brings rains desperately needed to ease a drought in the center of the United States, where summer crops have been ravaged and many rivers and dams are critically low.
The mayor of New Orleans, Mitch Landrieu, said the $14.5 billion system built for New Orleans by the Army Corps of Engineers -- an array of walls, floodgates, levees and pumps -- had performed "exactly as it should."
Isaac was never close to packing the punch of Katrina, which was a Category 3 hurricane on the five-step Saffir-Simpson scale when it smashed into New Orleans on August 29, 2005 - a day that still reverberates in the nation's psyche.
And early indications are that property damage from Isaac will not crack the top-10 list of worst U.S. hurricanes by inflation-adjusted losses.
But the storm still produced major headaches, especially the seemingly endless rain that caught many long-time residents by surprise, trapped some on rooftops, and caused significant flooding in low-lying coastal areas.
SLOW MOVING
Isaac's advance slowed to a crawl after it first grazed the southeast Louisiana coast on Tuesday. That slowdown allowed it to pick up strength and dump rain for many more hours than expected. Flooding and storm surges forced thousands from their homes in areas not far from New Orleans.
"There is no such thing as 'just' a tropical storm," Craig Fugate, director of the Federal Emergency Management Agency, said after Isaac was downgraded from Hurricane strength on Wednesday.
Fugate's boss, U.S. President Barack Obama, declared the impact on Louisiana and Mississippi major disasters and ordered federal aid to supplement state and local recovery efforts.
The NHC estimated total rainfall amounts from Isaac of 7 to 14 inches, enough for widespread lowland flooding. Isolated maximum amounts over much of Louisiana and parts of Mississippi, Alabama and even Arkansas were expected to be as much as 25 inches.
Storm surges at high tide were also as high as 12 feet on the coast of Mississippi and southeastern Louisiana. Thousands were evacuated from St. John the Baptist Parish, north of New Orleans, after surges in Lake Pontchartrain and Lake Maurepas.
New Orleans was provided with a heavy security presence to prevent any repeat of the days-long crime wave and general chaos that followed Katrina.
Police and National Guard units, many armed with assault rifles, patrolled dark and nearly deserted streets in downtown New Orleans, usually a hotbed of tourism.
The city was still being lashed by rain and high winds on Wednesday night and about 60 percent of all homes and businesses were without power.
GHOST TOWN
"It's a ghost town," said Sgt. Joseph Jennings, a member of the Louisiana Army National Guard patrolling the streets in an armored humvee.
"Everybody saw the widespread looting during Katrina and nobody wants that to happen again."
The darkness of the Lower Ninth Ward was eerily reminiscent of Katrina, when a nearby levee failed and the largely poor and black neighborhood was inundated by deadly floodwaters.
In the nearby Seventh Ward, one of the city's poorest and most crime-ridden areas, residents could be seen in shadows on porches, standing outside their darkened homes.
Earlier, along the shores of Lake Pontchartrain, Donalyn Lott watched a pumping station sucking water out of an overflowing drainage canal and into the lake.
"We're holding up pretty good … no flooding," Lott said.
About 3,000 residents were forced from their homes in St. John the Baptist Parish, upriver from New Orleans, by flooding caused by storm surges.
Evacuations were also needed in Plaquemines Parish, a major shrimping area southeast of New Orleans that bore the brunt of the northward-moving storm.
Dozens were plucked from the roofs of their houses by local boatmen after earlier deciding they could ride out what compared with Katrina seemed like a small storm.
"This storm has delivered more of a punch than people thought," said Plaquemines Parish President Billy Nungesser.
More than 730,000 Louisiana and Mississippi customers of Entergy Corp and other local utilities were without power as of late Wednesday.
City officials also said Louis Armstrong New Orleans International Airport, which closed late Monday, would remain shut on Thursday as the lines that supply it with power were knocked out by the storm.
Benchmark crude oil prices slipped on Wednesday on expectations that damage to oil facilities, offshore and along the coast, would be limited. Major oil companies including Royal Dutch Shell and Exxon Mobil Corp, began making plans to assess or restart operations.
(Additional reporting by Ben Gruber and Kathy Finn in New Orleans, Emily Le Coz in Tupelo, Mississippi, Chris Baltimore in Houston, Ben Berkowitz in Boston and Jane Sutton and David Adams in Miami; Writing by Ros Krasny; Editing by David Brunnstrom)

(Source : Reuters)