---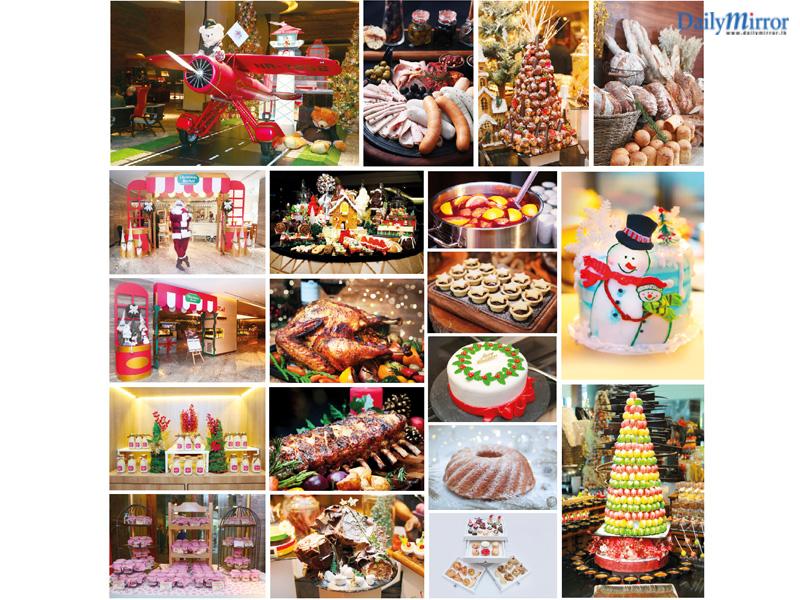 Make it a joyful season to remember… It's a time for indulgence, for relaxation, for catching up with family and friends. Hilton Colombo once again invites you, your family and friends to bask in their cozy, glowing atmosphere while they help you create truly special memories.
Christmas traditions are among the most treasured of all. Yuletide carols to delight you, tall Christmas trees with lights to enchant you, and a visit from Santa to beguile the child in you. Ring in the New Year with your choice of laidback or lively ambience, dress up or down, depending on your mood.
Throughout the holiday season, each of the restaurants and bars are offering their own unique brand of festive celebrations. To delve into the spirit of the Festive season, Executive Chef Robert Mujagic and his team of chefs are creating delightful dining treats. From indulgent festive luncheons and dinners to glittering party nights, promising to fill this year with a Christmas essence that will have you and your loved ones reminiscing for years.
A CHRISTMAS POP MARKET is on until the 28th of December from 10am – 9pm at the Lobby.
Visit the pop up carts featuring unique items from selected vendors who change weekly; Relive, Normadic Findings, Quaintrelle, Syon & J Flats, Silk Threaded Galore, Shoe Lace Studio, Cinnamon & Summer, Navyamaya, I am Upcycled, BUD, Nue Body Basics, Exquisite and the Mug Shot, Candle House Ceylon, Amberry, The Library, Meraki Crafts, Jade Handmade Bath & Body and Pabora. Don't forget to visit Santa's toy shop!
CHRISTMAS TREATS AT CAFÉ KAI; Re-discover sugar and spice and all things nice with the extensive list of cakes, cupcakes, cookies, hampers and other goodies as the Pastry Chefs have created some indulgent creations this Christmas. "Visit our retail section at Café Kai and shop for traditional festive favorites in the spirit of the holidays. We have spiked Eggnog for take away Christmas puddings, beautifully decorated Christmas cakes, Yule logs, chocolates and a whole lot more and you could make your own hamper with a selection of homemade artisanal sausages,, cold cuts, cheeses, jams with gold flakes, French Cognac butter, organic honey with cinnamon, grain mustard butter, black tomato jam, apple & cinnamon jam, coconut mango jam, together with a variety of freshly baked bread and have it wrapped up by our team" says Gigi De Silva, Marketing Communications Manager. To help with all your customized holiday culinary needs, the chef will prepare your favorite Christmas menu, with great attention to your every need. Special festive roasts with traditional trimmings are available too. Pre-orders will be undertaken. Open until 29th December 8.00am to 10.00pm from Sunday to Thursday and until midnight on Friday and Saturday.
A highlight of the season will be the choral harmony at the L.A.B. (Lounge & Bar). Let the season embrace you with the sweet melodies of a series of choirs who will perform from the 20th to the 25th from 8pm – 8.45pm at LAB. Old Joes – 20th Dec / Resonance on 21st & 23rd / Camerati on 22nd and Choro Calibre on the 24th & 25th whilst lobby interludes featuring Janith on Saxophone and Revel Crake on guitar, Tilanka on Flute and Lydia on Violin will take place nightly from 7.30pm to 8pm from the 6th onwards.
SANTA CHASE – Whether you have been naughty or nice, meet Santa in the Lobby from 20th – 24th from 7.30pm to 9.30pm and on the 25th from 11am to 2.30pm.
Snap a shot beside Santa's mini red aircraft built with recycled scrap iron, located at the Lobby, upload it on Facebook or Instagram with the hashtags #HiltonColombo, #HomeforChristmas and #MyChristmasinSriLanka and stand a chance to win prizes by trying your luck on the Jingle Jackpot until the 28th December from 12.30pm to 2.30pm and 7.30pm to 9.30pm.
FESTIVE AFTERNOON TEA at L.A.B from the 20th – 25th December I 3pm – 6pm
The classic afternoon tea has been revamped for a festive experience. Enjoy sweet and savory treats with a festive twist with the High Tea Platter for Two. Plain and raisin scones, clotted cream and strawberry jam, traditional Christmas cake, mini minced pies, Santa hat frosting cupcake, Christmas tree chocolate brownie, mini chocolate buche, vanilla berry savarin, Santa macaroon, slow roast beef sandwich on ciabatta with pickles, honey glazed ham, apple with watercress and soft brioche, ribbon sandwich with sundried tomato, cream cheese & basil chicken mayo & chestnut finger sandwich, smoked salmon & leek quiche, slow roasted Christmas turkey pie with Cranberry, prawn spring roll with sweet chili sauce and mini lamb puff with winter vegies. Wash it down with a cup of tea or coffee served any way you like. RS 3588 NETT for two.
Enjoy traditional Gluhwein, Eggnog and sensuous mixers complimented by culinary delicacies enhancing your evening with a vibrant twist at the LAB (Lounge & Bar) whilst relaxing to live entertainment from 8pm to midnight Sunday – Thursday and until 2am on Friday & Saturday. JAZZ on Sunday, HEAT on Monday, M&U on Tuesday, FLAME on Wednesday EN ROUTE on Thursday MIRACLE on Friday & Saturday.
Special Christmas Eve, Christmas Day and New Year's Eve menus will be available at the restaurants.
Toast to 2020 with Sheridan & Extreme from 7pm onwards at the LAB (Lounge & Bar). Minimum Charge of Rs 5000 nett per person with an a la carte menu on offer.
Boogie the New Year in by stepping back in time and re-living the sounds of the 1980s to 2000s with classics from these epic decades. Includes an international dinner buffet, breakfast and entertainment with seven top DJs; Kapila, Bonnie, Naushad, Wendell, Hiranya, Danushka and Sushan spinning discs at the POOLSIDE. Fireworks at midnight! Corkage FREE. 9pm onwards Rs 9888NETT. 50% discount for children 6 – 12 years.
Ring in the New Year amidst the lavish surrounds of the Grand Ballroom. Enjoy pre-dinner mixers, a gala international dinner buffet and breakfast. Glasses will never be empty for a toast with 5 bottles of Premium Spirits and Wine and soft drinks included. Rs 18,888NETT Bands are BLACK and MIRACLE with Kevin Almeida & Geoff Fernando, compered by Adam.
The Christmas Coordinators will be available to assist you from the 1st to 31st December from 11am to 9pm at the SPECIAL EVENTS DESK AT THE LOBBY. "We encourage you to book early to ensure you get your favorite table" says Gigi. In conclusion she mentions that one could spread the light and warmth of Hospitality by gifting that special someone a Hilton Gift Voucher. "Vouchers are valid for dining at any of our restaurants or for overnight stays". Special offers are available for Children; up to 5 years of age dine free (buffet) and 6 to 12 years enjoy a 50% saving on Buffet.
For more information please call 2492492/2544644 or e-mail: [email protected]