---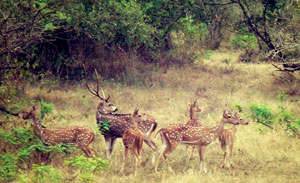 While enjoying at amazing and golden sandy beaches at Southern Province in Sri Lanka, how wonderful if you have an opportunity to experience the wild life behavior or to collect beautiful vistas of wild world! About 290km from Colombo, Yala National Park can be reached from Hambanthota-Tissamaharama Road in Southern Province of Sri Lanka, which is a wonderful and a best travel destination and it's rich in wildlife. And Yala National Park is popular for its highest concentration of leopard in the world and it's the second largest National Park in the country. Leopards, elephants, colorful painted stork in troops, sloth bear, Sambar, spotted deer, jackal, mongoose, wild boar, wild buffaloes and macaque monkeys are some of untamed world collection in this amazing park.
If you're somewhere in Tissamaharama area during January to July, it's the best time to enjoy the sights of various distinct species of leopards in this Yala National Park while enjoying park's the rocky outcrops and sprawling areas with Sri Lanka's Hambanthota dry zone site. This Yala National Park affords vantage themes to trek and travelers can explore about 32 species of mammals and can enjoy bird watching around 130 bird species in various natural features and vivid colors including black necked stork, sandpipers, pelicans, egrets, hoopoes, parakeets and bulbuls.
And travelers are able to capture views of various types of migrating waterfowl in this Yala National Park including pintail, Eurasian curlew and whimbrel, during the north-east monsoon. And also, many species of reptile including mugger crocodile, cobra, russel's viper, turtle, olive ridley and leatherback and other wild life species like orange breasted green pigeon, hornbills, and flycatchers can be discovered in this park. Yala National Park is a home to various wild life species and it's an amazing travel destination which offers opportunities to discover all these species in one place and to capture various breathtaking views of this untamed world.
Travelling Hambanthota will not be a worthless journey, because, there are various bio diversity places can be discovered there and there are many other attractive national parks in Sri Lanka such as Gal Oya National Park, Wasgamuwa National Park, Horton Plains National Park and so on. And it's an opportunity to experience the Sri Lanka's delicious foods, culture with staying at best Hotels in Sri Lanka, especially at Hambantota Hotels. Therefore, it's the time to add Hambantota to your thrilled tour in Sri Lanka!