---

Standing from left: Viluxur Holidays Director Cammy Gunasekera, Jetwing Hotels Ltd Operations Manager Dimitri Cooray, Mahaweli Reach Hotel Operations Manager Asitha Panabokke, Pan Lanka Travels and Tours Ltd Director Ratten Abdulhussein, Silver Line Tours (Pvt) Ltd Managing Director Shamali Devaz and Jetwing Hotels Ltd Managing Director Ruan Samarasinghe
Seated from left: PATA Sri Lanka Chapter Secretary Lakshika Perera, Tallman Tours Ltd Managing Director Zahara Cader, TravelOn Ltd Director Sega Nagendra, Assistant Vice President of John Keells Group and Walkers Tours Limited ASIA region Business Development Head, Amaya Leisure PLC Chairman and Kingsbury Colombo Director Denesh Silva, World Avenues (Pvt.) Ltd Executive Director and Vice Chairman Muaiyyed Idroos and immediate Past Chairman Hussain Jayah
The Sri Lanka Chapter enables its members to conduct their various assigned responsibilities for selling travel related products and providing services to visitors to the island in a more effective manner.

The key aim is to promote Sri Lanka as a PATA destination, under the aegis of the Ceylon Chamber of Commerce.

Denesh Silva, Director of The Kingsbury Colombo/Amaya Leisure PLC was elected as the Chairman for the year 2017/2018 on the completion of the tenure of the outgoing Chairman Hussain Jayah.
Prabath Harshakumar, Head of Business Development for Asia region of Walkers Tours Limited and Assistant Vice President of John Keells Group and M. Idroos, Executive Director, World Avenues (Pvt.) Ltd were elected as Vice Chairmen.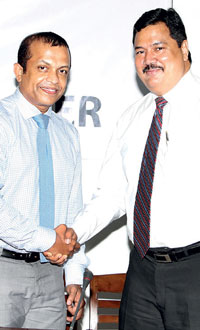 At the meeting, the elected Chairman highlighted on forming a 'Youth Brigade' to take the Chapter forward. In his speech he mentioned that PATA Sri Lanka Chapter "hopes to expand the scope of youth activities and encourage the young executives to actively take part in Chapter activities".
The following committee members were elected on to the committee of the PATA Sri Lanka Chapter: Mahaweli Reach Hotel Operations Manager Asitha Panabokke, Jetwing Hotels Ltd Operations Manager Dimitri Cooray, Tallman Tours Ltd Managing Director Zahara Cader, and Viluxur Holidays Director Cammy Gunasekera.

Board of Advisors: Jetwing Hotels Ltd Managing Director Ruan Samarasinghe, Mahaweli Reach Hotels Ltd Managing Director Jayantha Panabokke, Pan Lanka Travels and Tours Ltd Director Ratten Abdulhussein, Silver Line Tours (Pvt.) Ltd Managing Director Shamali De Vaz and Travel On Ltd Director Sega Nagendra

Mr. Hussain Jayah will join the committee in his capacity as the immediate past chairman. Sri Lanka Convention Bureau Marketing and Promotions Manager Kumudu Hennidege, Sri Lanka Tourism Development Authority Director General Malraj Kiriella and a Sri Lankan Airlines representative will be joining in an ex-officio capacity.

Membership of the Chapter consists of 68 local members, comprising travel agents, tour operators, sightseeing operators, ground/water transportation operators and hoteliers whose businesses are situated within the geographical area of Sri Lanka.