---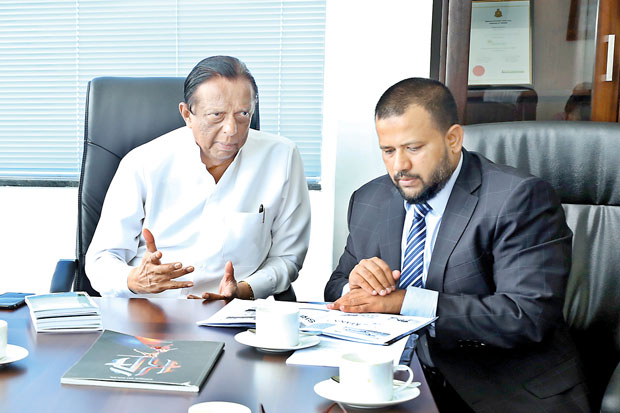 Sigiriya Shilpa Handicrafts Village is to get a much-needed boost through a proposed public-private partnership that will transform the village into a lively performing arts centre.
A meeting in this regard was held between Tourism Development Minister John Amaratunga and Industry and Commerce Minister Rishad Bathiudeen at the Tourism Ministry yesterday.
Under the proposed plan, the Sigiriya Crafts Village will be converted to a performing arts centre during night-time with a US $ 2.5 million investment by a private sector entity to create the necessary infrastructure and facilities for hosting daily cultural performances.
"This is a long-felt need as the thousands of tourists who flock to this region have nothing to do after 5:00 p.m. The proposed night-time entertainment will portray our history and culture in an imaginative way using the latest technology and production techniques," said Amaratunga, while emphasizing that the focus will be on sustainability and value addition.
A high-tech lighting system and a special mobile stage that will be imported from China will add a modern touch to the performance centre.
"This initiative will add value to the existing facility and open up a new platform for the craftsmen to exhibit and market their products, ensuring added income to the village economy. It will create the ideal platform for the craftsmen to merchandise their wares while also providing tourists wholesome entertainment,"
added Amaratunga.
The handicrafts village was established in 2003 and comes under the purview of the National Crafts Council, which is under the Industry and Commerce Ministry. The village currently has nearly 50 stalls depicting various fields of handicraft. The concept has enabled craftsmen to directly connect with customers without the interference of intermediaries. The items on offer include batiks, wood carvings, brass work, jewellery, handlooms, etc.
Bathiudeen while welcoming the proposal said that it would benefit both tourism development and the local economy.
"It is a move that will directly benefit all stakeholders. We will expedite the implementation and get it off the ground as soon as possible." A sub committee consisting of officials from the two ministries was appointed for the purpose.