---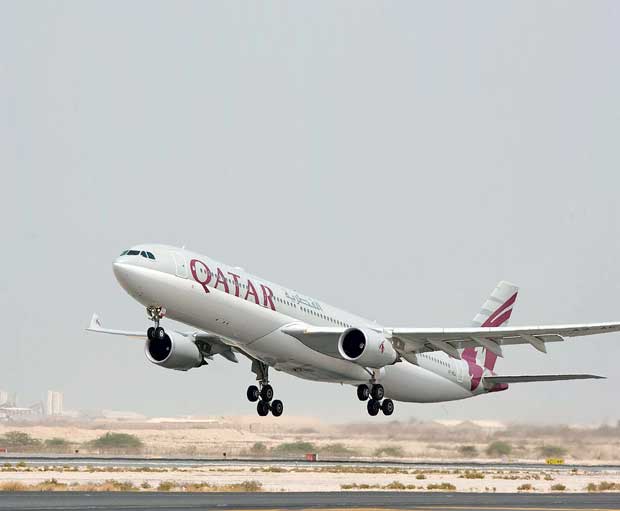 Qatar Airways is offering a staggering choice of up to 3,000 inflight entertainment options on board its flights, providing its passengers with one of the world's largest and best inflight entertainment libraries.

The Doha-based airline, which previously offered up to 2,000 entertainment options, has increased its on board entertainment options from March to up to 3,000 entertainment options, offering a wide selection of up to 550 movies, 1,400 episodes of TV shows, 1,000 audio selections, and 50 games.
Passengers travelling with Qatar Airways in March will also be delighted to discover the full collection of seven Star Wars movies on board, including the latest instalment, Star Wars: The Force Awakens.
Other premieres on board for the month of March include: the final part of the Hunger Games series, Mockingjay Part Two; Creed; The 33; Trumbo; and Macbeth. The latest family movies on board include: Alvin the Chipmunks Road Chip; The Good Dinosaur; The Peanuts Movie; and Pan.

Qatar Airways has one of the most extensive selections of entertainment available in the skies on its award-winning Oryx One inflight entertainment platform. As well as the full Star Wars collection, passengers can enjoy the full box set of Marvel movies, all the Harry Potter movies and 10 of the best James Bond movies, including the most recent instalment in the franchise - Spectre. Qatar Airways Group Chief Executive Akbar Al Baker said that the stepping up of inflight entertainment options for the airline's passengers reaffirms Qatar Airways' commitment to continuously upgrade its product offerings.

"One of the reasons why we remain one of the world's favourite airlines is because we constantly keep looking for ways to enhance the inflight experience of our passengers. With our on board content, we aim to offer something for passengers of all ages, and now with this increased content, our customers will be able to experience new entertainment options every time they travel. Going to their favourite places for leisure or business will now be more interesting, entertaining and relaxing," said Al Baker.

"We are happy to bring Star Wars: The Force Awakens on board as the latest addition to our innovative on board entertainment system, Oryx One. Stars Wars fans can now choose from the full collection of all seven movies to watch during their flights as well as the many other entertainment options on board," said Qatar Airways Senior Vice President Marketing and Corporate Communications Salam Alshawa.

"Offering a wide selection of movies, TV, games and music on board is a key element in providing our passengers with the ultimate comfort on board all Qatar Airways flights, and we continue to update our collection every month to keep the selection fresh and current."

Qatar Airways launched Oryx One, an enhanced interface for its inflight entertainment system, in 2015 and was recently recognised for its Middle East Content Innovation at the third annual Inflight workshop and awards held in partnership with F&E Aerospace, the organisers of Aircraft Interiors Middle East.

Passengers flying on Qatar Airways flights served by its B787, A350, A380, A319 as well as select A320 and A330 aircraft can also stay in touch with their friends and family around the world by using the five-star airline's on-board Wi-Fi and GSM service.

Qatar Airways recently announced that Ooredoo, the fastest-growing telecommunications company in the world, will be the exclusive three-year sponsor of on board Wi-Fi across the airline's state-of-the-art fleet. Qatar Airways passengers on all connected aircraft enjoy free Wi-Fi for the first 15 minutes courtesy of Ooredoo. For those passengers who wish to remain connected in the air, Qatar Airways offers a customer-friendly and easy payment programme, based on the amount of time needed. One hour of connectivity is just USD$ 5; three hours of connectivity is just USD$ 10; and for passengers on longer Qatar Airways flights, a set price of USD$ 20 for the duration of their trip is available, regardless of the number of hours used. Guests in Qatar Airways First Class cabin on board the airline's A380 will enjoy complimentary Wi-Fi for the duration of their trip.