---
Partnership and innovation have been a driving force behind the success of Etihad Airways and the UAE said James Hogan, President and Chief Executive of Etihad Airways, the national airline of the United Arab Emirates, in a speech recently.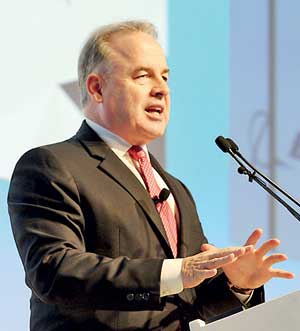 Delivering a keynote address to the Global Aerospace Summit, held as part of the Abu Dhabi Aviation and Aerospace Week, Hogan outlined the advantages of the strategic partnerships Etihad Airways has forged through minority equity stakes in Alitalia, Air Serbia, Air Seychelles, airberlin, Etihad Regional operated by Darwin Airline, Jet Airways, and Virgin Australia.

He said: "To become a competitive global network carrier today is incredibly challenging. Partnerships allow us to compete effectively and give us scale and differentiation, as well as reducing cost and delivering major benefits, including operational cooperation, more consumer choice and competition, and job creation."

Speaking to the Summit's major theme of partnership, Hogan praised the UAE's pioneering approach, particularly in the area of aerospace partnerships.

"In the UAE, we are seeing a rapidly expanding broad portfolio based on partnership in aero structures manufacturing, engine and component financing, and maintenance, repair and overhaul," he said.
"The UAE is actively leveraging partnerships with the world's biggest aviation players including Rolls-Royce, GE, Boeing and Airbus as it becomes a leading global player and centre of excellence."

Hogan described how partnerships are more important than ever in an increasingly globalised economy, as well as the need for businesses to continually innovate to stay relevant – another central theme of the Summit that drew leading aerospace figures to the UAE capital for two days of debate and presentations.

He said: "The UAE aims to become one of the most innovative nations in the world within seven years and enter the Global Innovation Index top 20 by 2021.

"Already, we are seeing the creation of a national culture that encourages innovation and entrepreneurship through partnership, with the private sector encouraged to establish innovation and scientific research centres and adopt new technologies.

"This is a philosophy we also hold dear at Etihad Airways. We know that a sustained innovation process is fundamental in a competitive environment such as aviation. It is absolutely central to providing remarkable products and services to our guests now and into the future."

Hogan cited examples of Etihad Airways' work in developing innovative products and services, highlighting The Residence – the world's only three-room cabin in commercial aviation with a dedicated Savoy-trained butler – on board the airline's Airbus A380 fleet.

Emphasising the importance of innovation to today's environmentally conscious travellers, Hogan also spoke of Etihad Airways' work with partners on the sustainable production of aviation biofuels in the UAE.

Hogan closed his address by challenging delegates to embrace innovation because consumers expect to deal with switched-on organisations in a new digital society.

He said: "The world isn't changing – it's already changed. Partnership and innovation are critical in a new globalised economy and success in an increasingly digital future depends on an ability to implement effective technologies and rethink strategy, culture and talent."