---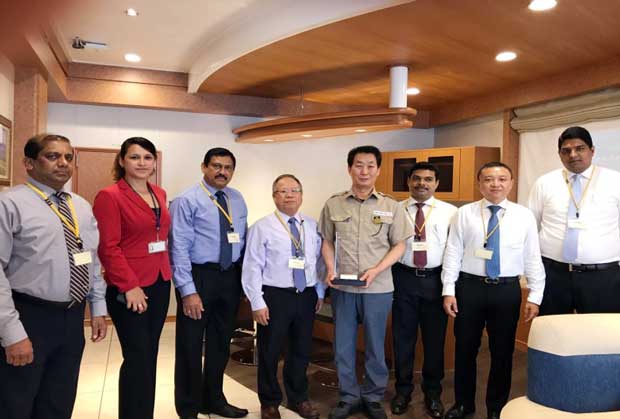 1: From left: Head of Operations Ajantha Samarakoon, CICT Marketing and Commercial Head Catriona Jayasundera, Hemas Maritime (Pvt) Ltd Executive Director Preethilal Fernando, Evergreen Line Representative Capt. C. J. Lee, MV Toledo Triumph Master Capt. Gim Chan Gon, Vice President Chathura Nissanka, CICT CEO Ray Ren and Commercial and Finance Head Mushin Kitchilan
Evergreen Line vessel MV (Motor Vessel) Toledo Triumph with the capacity of 14,000 TEUS made it's maiden call at Colombo International Container Terminal (CICT) recently.

In commemoration of the maiden voyage of MV Toledo Triumph to Colombo, CICT CEO Ray Ren presented a plaque to the Master of the vessel.

MV Toledo Triumph is the second vessel delivered in June 2017 by the Shoei Kisenshipyardin Japan to Evergreen Line which vessel is presently deployed in the Far-East/Europe trade using Colombo Port as the Transshipment Hub in the ISC Region.

Evergreen Line Agents Hemas Maritime (Pvt) Ltd Executive Director Preethilal Fernando said that the Evergreen Group established Evergreen Marine Corporation (EMC) by the Chairman of the company Dr. Yung Fa Chang on 1 September 1968 and today regarded to be one of the largest Cargo Shipping Companies in the world, ranked as the 6th largest shipping company in the world.

Evergreen Line commenced its operations to Sri Lanka in the year 1986 and today the third largest mainline carrier to the port
of Colombo.

Currently Evergreen Line operates 17 services to Colombo and EMC is a consortium partner of Ocean Alliance. MV Toledo Triumph is the 2nd T-Type vessel out of the 10 new vessels to be delivered during 2016 and 2017 under its fleet renewal programme and has signed charter agreements with both Costamare and Shoei Kisen Kaisha in Japan.

EMC operates one of the largest container fleets in the world with a fleet of 194 container ships with a capacity of over one million TEUS (Twenty – foot equivalent units) and call at 240 ports worldwide in 80 different countries.

Colombo has been established as one of the key Transshipment Hub for Evergreen Line and EMC has been consistent in expanding its services to Colombo during past 30 years since the commencement of their services to Colombo in year 1986.

The MV Toledo Triumph with DWT 146,792 tons 365.94 metres in length, 51.20 metres wide and design draft of 15.52 metres and designed to load 20 rows containers on deck.
Evergreen Group also signed time charter agreement to charter eleven 18,000 TEUS vessels. The ships are planned to be delivered from 2018 through 2019.

Evergreen adopts the most advanced ship building technology and cooperates with Shoei to build the new generation ultra-large container ships. The ship measurements are about 400 metres in length and about 59 metres wide. The ship design incorporates optimized hull profiles and minimum ballast water requirements to maximize cargo carrying capacity. The vessels are designed to have larger depth to strengthen hull structure and navigation safety.