---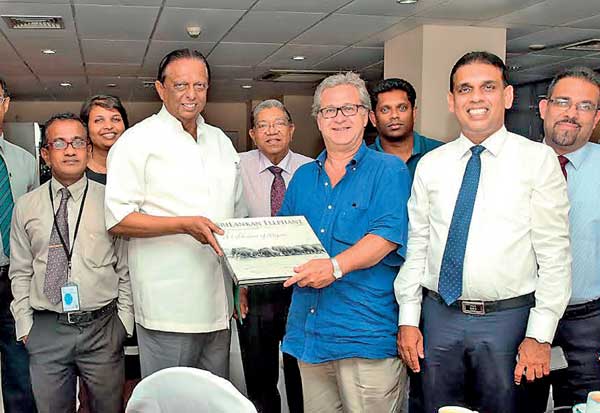 Tourism Development, Christian Religious Affairs and Lands Minister John Amaratunga making a presentation to Deployment of Crystal Cruises USA Vice President Claudius Docekal at the ministry recently. Docekal was accompanied by Aitken Spence Travels Managing Director Nalin Jayasundera and SLAITO Cruise Committee members
Sri Lanka is ready for upmarket luxury tourism and should capitalize on it, said an authority on global cruise tourism.

Deployment of Crystal Cruises USA Vice President Claudius Docekal made this observation during a meeting with the Tourism Development and Christian Religious Affairs Minister John Amaratunga at the Tourism Ministry recently.

Docekal was in the country to deliver the keynote address on 'Cruise and luxury air travel' at the recently concluded Maritime Conference held in Colombo. Docekal's visit was arranged and coordinated by the cruise committee of the Sri Lanka Association of Inbound Tour Operators (SLAITO) together with the Sri Lanka Tourism Promotion Bureau.

Docekal assured Amaratunga that he would include Sri Lanka in future Crystal Cruise calls for their 900 and 1000 passenger ships and also their luxury aircraft to Sri Lanka. Amaratunga while thanking Docekal for the confidence placed in Sri Lanka noted that the arrival of Crystal Cruises and flights to the country would definitely raise the profile of Sri Lanka's luxury travel market.

Crystal Cruises is a major global operator in the luxury travel segment. It presently owns and operates three luxury vessels, new 200-guest Superyachts as well as 1,000-guest exclusive class of ships that will come on line in 2019. In addition to operating ocean cruises, Crystal launched Crystal River Cruises in July this year with the debut of the re-imagined Crystal Mozart. In 2017 and 2018, it will introduce a total of four new 110-guest river yachts.

Crystal Cruises recently expanded into air travel and presently operates a luxury Global-Express private aircraft under Crystal Luxury Air. Crystal Luxury Air will be the first in the luxury travel industry to offer around-the-world trips on the world's most advanced twin-aisle Boeing 777-200LR Business Jet. This 350 seat aircraft is currently being configured to just 84 seats bringing absolute luxury to air travel.

During his stay in Sri Lanka, Docekal visited four major ports in the country, namely Colombo, Galle, Hambantota and Trincomalee. He was pleasantly surprised to find out the depth of the ports, especially in Colombo, where the depth is between 18 to 23 meters, Hambantota at 16 meters and Trincomalee at 12.5 meters.

"This is a major advantage over the regional competition to attract the larger cruises if only marketed effectively and also the diversity of the four port locations, which is unique compared to the options available for the cruises in the region," he noted.
Docekal also visited Yala National Park, Udawalawa National Park, Polonnaruwa, Sigiriya, Dambulla, Kandy, Nuwara Eliya, the elephant orphanage and southern and eastern beaches by road as well as by air during his short stay. He was impressed with the authenticity and diversity of the attractions within a small island setting.

Visiting Sri Lanka after 20 years, Docekal was delighted with the upscale products offered by international chain hotels and luxury boutique resorts across the country. "This will help promote the luxury Crystal brand in Sri Lanka especially destinations where Sri Lanka is not yet known for luxury cruise and air tourism," he observed.

In order to make Sri Lanka a well-known turnaround destination he felt that it was vital to clone the concept of the service and architecture of the luxury cruises, also commonly known as the luxury floating resorts, on the ground.

Determined to support Sri Lanka, Docekal noted that the country must reposition itself as a destination that provides an authentic island experience at a deserving price. "Sri Lanka being an island destination must be aware of how many it can accommodate without harming the culture and the environment," he pointed out.

"The first impression is very important," noted Docekal adding that the view from the passenger pier at the Colombo Port should be more attractive. "Inexpensive improvements such as painting some of the buildings that could be seen from the passenger pier and improved road ways with clearly marked signage will be a good start."

He also suggested allocating a functional area that could be used for turnaround ships up to 1000 passengers, adding that a dedicated terminal is not the need of the hour.
Docekal pointed out that luxury tour operators would not recommend any internal road transportation that lasted more than two hours as a basic standard. He felt rail transportation or domestic airports could be a great alternative to the congested roads considering the available infrastructure.
He suggested that Sri Lanka should promote its ports and services in addition to the tourist attractions in major cruise exhibitions, as this will once again put Sri Lanka on the world cruise map regaining its lost glory as the hub of the ancient silk route.