---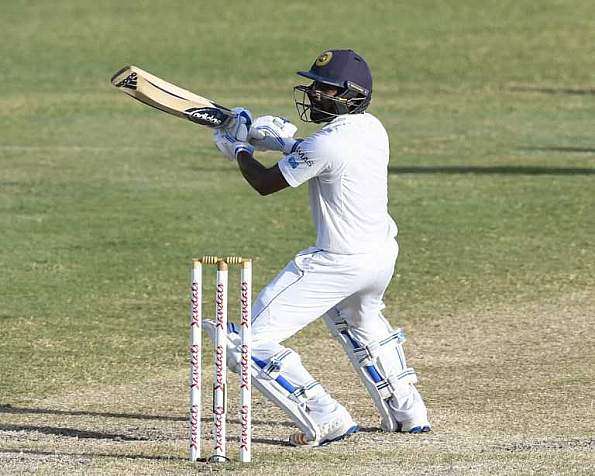 Despite the numerous interruptions the second Test has witnessed due to rains and other factors, the match has come to a point where all three results are within bounds on the final day. The script for this was set by the fourth wicket century stand between Kusal Mendis and Dinesh Chandimal, followed by the 99-run partnership by Niroshan Dickwella and Roshen Silva, which powered Sri Lanka to 334 for 8 in their second innings, before umpire decided to call off play on the fourth day due to poor light.
It was quite an effort by the visitors, given the situation they had found themselves in 45 minutes into the day's play. Shannon Gabriel and Kemar Roach had rocked the top order with three early wickets. The destruction began in the first over itself when Gabriel trapped nightwatchman Kasun Rajitha without any runs getting added to the overnight score. Dhananjaya de Silva offered Gabriel possibly his least rewarding wicket when he edged an attempted drive on the up to the slip fielder. Mahela Udawatte added to Sri Lanka's miseries by mistiming a hit over the infield to Devendra Bishoo at mid off. 14 runs into the day, Sri Lanka found themselves reeling at 48 for 4, with only a one-run lead to boot for when Chandimal was joined by Mendis in the middle.
The duo, together, rescued the Sri Lankan innings in contrasting manners. While Chandimal struggled and scratched his way to a painful 39, Mendis looked far more convincing in his shot making. Both of them were awarded lives as they got out off no balls. First it was Mendis, who was caught down the leg side off Jason Holder and then a snooter by Gabriel had Chandimal lobbing a fend to the slip fielder. But on both occasions, the bowlers were found to have overstepped.
The issue of overstepping isn't new to the current line-up of Windies pacers, but they had shown a marked improvement in that aspect in the ongoing series. However, on Sunday, they overstepped 10 times - twice costing them wickets.
Taking advantage of that, Chandimal and Mendis stitched a 117-run partnership for the fifth wicket and revived Sri Lanka's innings In the process, Mendis also brought up his sixth Test fifty. His innings, which began cautiously, went a gear higher after being offered a life. He was especially severe to the spinners - Roston Chase and Devendra Bishoo.
Despite their resurrection act, Windies could have got back into the game with both of them falling on either sides of the Tea break. The visitors were reduced to 199 for 6, and with a lead of only 152 runs at that point, could have folded up giving away a target less than 200. But Dickwella and Silva avoided that situation as well for them.
Dickwella didn't get much strike in the first half of the partnership but was the accelerator of the two. Silva, who has had an ordinary outing in Windies, scratched his way along. Silva, who was dropped by Shai Hope on 27, chugged along to 48 before being caught behind courtesy a fine one-handed take by Shane Dowrich. The batsman wasted a review but by then, the 99-run stand had helped Sri Lanka to a position of comfort.
Dickwella, on the other hand, provided yet another brutal display of batting enroute his 70-ball 62. He registered the highest score by a Sri Lankan 'keeper in West Indies before falling softly to Gabriel, offering an easy lobbed chance to the short cover fielder. Akila Dananjaya and Suranga Lakmal hung around in the dying minutes of the day and helped the visitors to a 287-run lead at Stumps. It's a total good enough for Sri Lanka to defend, but remains to be seen if they are confident to go for the kill with an early declaration on the final day.
Gabriel ended the day with six victims in the innings, and 11 in the match - his career best, but it happened to be a day where Sri Lankan batsmen dominated.
Brief Scores: Sri Lanka 253 & 334/8 (Kusal Mendis 87, Niroshan Dickwella 62; Shannon Gabriel 6-57, Kemar Roach 2-75) lead Windies 300 by 287 runs
SL fury as ball row threatens second Test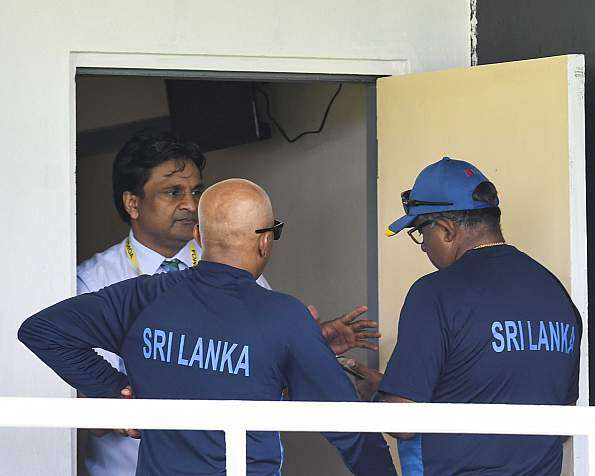 An apparent ball-tampering controversy threatened play on the third day of the second Test between the West Indies and Sri Lanka on Saturday with only an hour's play possible on a bright, sunny morning after the Sri Lankans initially refused to take the field.
Following concerns raised by umpires Aleem Dar and Ian Gould about the condition of the ball nearing the end of the second day, the Sri Lankans were advised before the start of play on Saturday that they could not continue with the existing ball
This resulted in Sri Lankan captain Dinesh Chandimal declining to lead his team onto the field with the West Indies set to continue their innings at 2-118 in reply to Sri Lanka's first innings total of 253.
Animated discussions then ensued involving match referee Javagal Srinath and the Sri Lankan pair of coach Chandika Hathurusingha and team manager Asanka Gurusinha and it appeared for some time that the day's play at least and possibly the rest of the match might be in doubt.
However it was after these deliberations that the Sri Lankans agreed to the change of ball and to continue playing although it is understood that they will be contesting the ball-tampering charge.
Five penalty runs were added to the West Indies total.
After initially appearing to be prepared to resume the match, the Sri Lankan cricketers then hesitated even as they were making their way out to the middle.
Further discussions ensued which brought Srinath onto the field while the West Indies contingent, headed by team manager Rawl Lewis, coach Stuart Law and captain Jason Holder, appeared bemused by the entire situation and sought clarification from the match referee.
Unconfirmed reports coming out from these deliberations suggest that the Sri Lankans were reluctant to continue the match under the cloud of suspicion of ball-tampering.
The International Cricket Council (ICC) confimed that a five-run penalty had been added to the West Indies total.
"The ICC can confirm the match officials in the second Test between West Indies and Sri Lanka changed the ball and awarded 5 penalty runs to West Indies," the ruling body tweeted.
"If there are any, Code of Conduct charges will follow as per usual at close of play."
When play eventually resumed, the West Indies progressed from their overnight position without too many alarms until Suranga Lakmal produced an excellent delivery to have Shai Hope caught by Dhananjaya de Silva at slip for 19.
Opening batsman Devon Smith progressed to 60 at lunch in partnership with Roston Chase with the home side at 3-154. West Indies were later dismissed for 300 runs in tehir first innings. In their second essay Sri Lanka lost opener Kusal Perera 20 before the days proceedings were ended. Sri Lanka trail by 13 runs with nine wickets
Sri Lanka Cricket later put out a statement saying team management had informed them the players "had not engaged in any wrong doing".
SLC said the players had been advised to take the field to continue the match "under protest" to uphold the spirit of the game.
Sri Lanka legend Kumar Sangakkara, part of Sky Sports' coverage of the second ODI between England and Australia in Cardiff, said Sri Lanka may "feel hard done by".
"Maybe (umpire Ian Gould) was just being over-cautious", Sangakkara said. "They saw something maybe that the ball needed to be changed, maybe it was the shape, and the Sri Lankans would have taken offence at that and made their case.
"The team manager, coach, captain will all have to get involved. I know (Chandika) and he will not take this lying down, he will go out there and be very strong and vociferous in presenting his case.
"But if there has been five penalty runs added, there has to be reasons and causes shown by Sri Lanka in defence as to why there was any damage on the ball, and how it could have happened.
"The umpires themselves will have to be pretty certain using the cameras as well to see if they were justified in changing the ball and adding five penalty runs.
"I absolutely think umpires should be very strict on ball tampering. You saw what happened with Australia, they should have had harder sanctions years ago, it might not have led to sandpaper.
"But at the same time everyone needs to have perspective.
"Give a fair hearing, see what everyone has to see and then make a very objective position to what's happened and if it merits the sanctions they've already imposed or if any further action needs to be taken. "
There is a precedent for a team refusing to take the field after a brush with the umpires.
The first and only time a match has been forfeited in the history of Test cricket was in 2006, after Pakistan were penalised five runs for ball tampering by umpires Darrell Hair and Billy Doctrove in the fourth Test against England at The Oval.
The Pakistanis did not return to the field after tea on the fourth day and the umpires deemed this to mean they had forfeited the match, even though Pakistan later said they were willing to play.
It was in March that Australia were caught tampering with the ball illegally on the third day of the third Test against South Africa in Cape Town.
Following their admissions of guilt and an investigation, Steve Smith and David Warner were stripped of the captaincy and vice-captaincy respectively and banned from playing international cricket for 12 months. Opening batsman Cameron Bancroft, the player caught on camera applying sandpaper to the ball, was banned for nine months.
Sri Lanka 1st innings
Kusal Perera c Jason Holder b Kemar Roach 32
Mahela Udawatte c Jason Holder b Shannon Gabriel 0
Dhananjaya de Silva b Shannon Gabriel 12
Kusal Mendis c Shane Dowrich b Jason Holder 45
Dinesh Chandimal Not Out 119
Roshen Silva c Jason Holder b Shannon Gabriel 6
Niroshan Dickwella c Shai Hope b Shannon Gabriel 16
Akila Dananjaya c Shane Dowrich b Kemar Roach 2
Suranga Lakmal lbw Shannon Gabriel 10
Kasun Rajitha c Shane Dowrich b Kemar Roach 4
Lahiru Kumara c Shai Hope b Kemar Roach 0
Extras 1b 2lb 2nb 0pen 2w 7
Total (79.0 overs) 253 all out
Fall of Wickets : 1-0 Udawatte, 2-15 de Silva, 3-59 Perera, 4-126 Mendis, 5-148 Silva, 6-179 Dickwella, 7-190 Perera, 8-206 Lakmal, 9-237 Rajitha, 10-253 Kumara
Bowling Ov Md Rn Wk Econ Ex
Kemar Roach 18 8 49 4 2.72 1w 2nb
Shannon Gabriel 16 4 59 5 3.69
Miguel Cummins 19 5 69 0 3.63
Jason Holder 14 2 56 1 4.00 1w
Devendra Bishoo 11 3 15 0 1.36
Roston Chase 1 0 2 0 2.00
Windies 1st innings
Kraigg Brathwaite c Niroshan Dickwella b Kasun Rajitha 22
Devon Smith lbw Akila Dananjaya 61
Kieran Powell c Kusal Mendis b Lahiru Kumara 27
Shai Hope c Dhananjaya de Silva b Suranga Lakmal 19
Roston Chase c Suranga Lakmal b Lahiru Kumara 41
Shane Dowrich c Niroshan Dickwella b Suranga Lakmal 55
Jason Holder c Niroshan Dickwella b Kasun Rajitha 15
Devendra Bishoo c Kusal Mendis b Kasun Rajitha 2
Kemar Roach lbw Lahiru Kumara 13
Miguel Cummins Not Out 8
Shannon Gabriel c Dhananjaya de Silva b Lahiru Kumara 3
Extras 11b 8lb 1nb 5pen 9w 34
Total (100.3 overs) 300 all out
Fall of Wickets : 1-59 Brathwaite, 2-115 Powell, 3-149 Hope, 4-163 Smith, 5-241 Chase, 6-254 Dowrich, 7-261 Bishoo, 8-279 Holder, 9-292 Roach, 10-300 Gabriel
Bowling Ov Md Rn Wk Econ Ex
Suranga Lakmal 24 6 50 2 2.08 1w
Akila Dananjaya 25 7 81 1 3.24
Kasun Rajitha 22 6 49 3 2.23 2w
Lahiru Kumara 26.3 4 86 4 3.25 2w 1nb
Dhananjaya de Silva 3 0 10 0 3.33
Sri Lanka 2nd innings
Kusal Perera c Shane Dowrich b Shannon Gabriel 20
Mahela Udawatte Not Out 11
Kasun Rajitha Not Out 0
Extras 0b 0lb 2nb 0pen 1w 3
Total (9.0 overs) 34-1
Fall of Wickets : 1-32 Perera
To Bat : de Silva, Mendis, Chandimal, Silva, Dickwella, Perera, Kumara, Lakmal
Bowling Ov Md Rn Wk Econ Ex
Kemar Roach 3 1 12 0 4.00
Shannon Gabriel 4 0 14 1 3.50 1nb
Jason Holder 1 0 6 0 6.00 1w 1nb
Miguel Cummins 1 0 2 0 2.00
SLC STATEMENT ON ''Changing the Condition of the Ball''.

The team management has informed us that Sri Lankan players have not engaged in any wrong doing during the ongoing (2nd) test match played between Sri Lanka and West Indies.

The team on the 3rd day of the match protested a decision taken by the Umpires citing ''Changing the Condition of the Ball''.

SLC advised the team to take the field to ensure the continuity of the match and wish to commend the decision taken by the team to continue with the game 'under protest' to ensure the upholding of the spirit of the game.

Minister of Sports Hon. Faiszer Musthapa, and the Competent Authority of SLC, Mr. Kamal Pathmasiri in collaboration with the SLC CEO Mr. Ashley De Silva and Mr. Chandima

Mapatuna, Head of International Cricket of SLC conveyed to the team management that SLC shall take all necessary steps to defend any player, in the event any unwarranted allegation is brought against a member of the team.

SLC reiterates its commitment to adhering to the laws of the game and upholding the spirit of the game. SLC stands firm in our commitment to protect the dignity of the national cricketers at all times.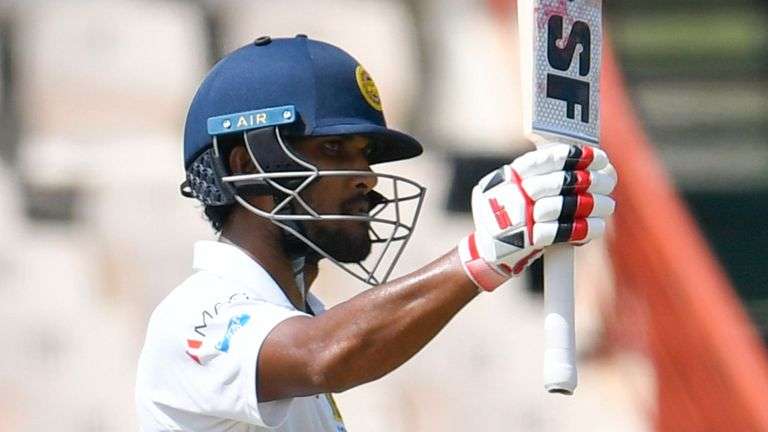 Chandimal was left stranded on 119
Windies in control despite Dinesh Chandimal's hundred for Sri Lanka
Dinesh Chandimal's unbeaten hundred dragged Sri Lanka to a first-innings total of 253 on day one of the second Test against Windies.
Chandimal's 119no defied a Windies attack spearheaded by Shannon Gabriel, who claimed 5-59 at the Darren Sammy Stadium in St Lucia, while Kemar Roach finished with 4-49.
Openers Kraigg Brathwaite and Devon Smith then safely negotiated two overs before stumps, which the home side reached on 2-0.
Chandimal, badly missed by Smith at slip off Miguel Cummins when only on 14, grew in confidence and resolve to strike his 11th Test century.
He received solid support from the lower order, especially Kasun Rajitha, the fast-medium bowler who was one of two debutants in a Sri Lankan side showing four changes from the team comprehensively beaten by 226 runs in the first Test in Trinidad.
The most controversial of the changes was the omission of veteran left-arm spinner Rangana Herath, although it was not clear if his omission was because of poor form or, as the selectors had hinted prior to the series, that he would be rested from one of the three matches.
Chandimal's innings spanned five hours and occupied 186 deliveries with 10 fours and one six.
Sri Lanka 1st innings
Kusal Perera c Jason Holder b Kemar Roach 32
Mahela Udawatte c Jason Holder b Shannon Gabriel 0
Dhananjaya de Silva b Shannon Gabriel 12
Kusal Mendis c Shane Dowrich b Jason Holder 45
Dinesh Chandimal Not Out 119
Roshen Silva c Jason Holder b Shannon Gabriel 6
Niroshan Dickwella c Shai Hope b Shannon Gabriel 16
Akila Dananjaya c Shane Dowrich b Kemar Roach 2
Suranga Lakmal lbw Shannon Gabriel 10
Kasun Rajitha c Shane Dowrich b Kemar Roach 4
Lahiru Kumara c Shai Hope b Kemar Roach 0
Extras 1b 2lb 2nb 0pen 2w 7
Total (79.0 overs) 253 all out
Fall of Wickets : 1-0 Udawatte, 2-15 de Silva, 3-59 Perera, 4-126 Mendis, 5-148 Silva, 6-179 Dickwella, 7-190 Perera, 8-206 Lakmal, 9-237 Rajitha, 10-253 Kumara
Bowling Ov Md Rn Wk Econ Ex
Kemar Roach 18 8 49 4 2.72 1w 2nb
Shannon Gabriel 16 4 59 5 3.69
Miguel Cummins 19 5 69 0 3.63
Jason Holder 14 2 56 1 4.00 1w
Devendra Bishoo 11 3 15 0 1.36
Roston Chase 1 0 2 0 2.00
Windies 1st innings
Kraigg Brathwaite Not Out 2
Devon Smith Not Out 0
Extras 0b 0lb 0nb 0pen 0w 0
Total (2.0 overs) 2-0
Bowling Ov Md Rn Wk Econ Ex
Suranga Lakmal 1 0 2 0 2.00
Akila Dananjaya 1 1 0 0 0.00