---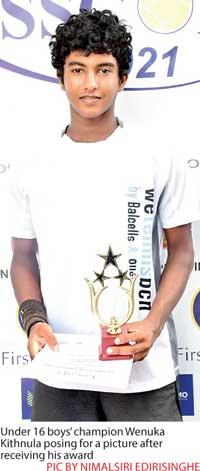 By M. Shamil Amit
Wenuka Kithnula clinched the Boys' Under 16 singles title of the SSC Open Tennis Championship when he coasted to a comfortable two sets to nil win over Zahidh Zihar in the final played at the SSC tennis courts in Maitland Place yesterday.

In the other matches played concurrently Saajida Razick and Dinara de Silva advanced to the final of the Girls' Under 16 singles with the duo recording convincing wins in their semi-final encounters against Denethya Dharmaratne and Anitra Dharmaratne respectively.

Meanwhile Oneli de Silva, Dulkini Ranasinghe, Arushi Thomas and Jayani Thambugalage qualified for the semi-final in the Girls' Under 14 singles.

The championship will be continued today.
Results:
Singles:
Final: Under 16 Bys' – Wenuka Kithnula beat Zahidh Zihar 2-0 (7/5, 6/4)

Semi-Finals: Girls' Under 16 – Saajida Razick beat Denethya Dharmaratne 2-0 (6/2, 6/3); Dinara de Silva beat Anitra Dharmaratne 2-0 (6/2, 6/4)

Quarter-Finals: Girls' Under 14 – Oneli de Silva beat Inuki Jayaweera 2-1 (1/6, 6/2, 13/11), Dulkini Ranasinghe beat Akeesha Silva 2-1 (3/6, 5/4, 10/8), Arushi Thomas beat Melesha Randini 2-0 (7/5, 6/4), Jayani Thambugalage beat Brinda Fernando 2-0 (6/3, 6/1)