---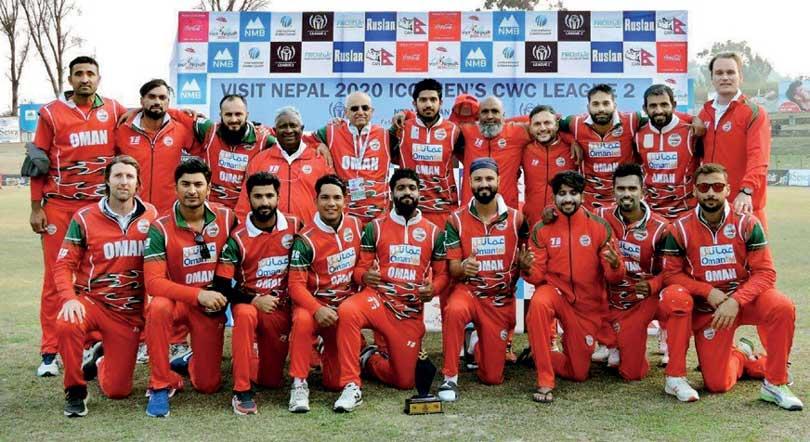 The Oman National Cricket Team
It is no mean achievement that in a football-crazy country like Oman, cricket continues to make international headlines - winning accolades and bringing trophies home.
Having struggled for decades to make a mark in international cricket, Oman turned the corner in 2014, one year after I joined, when it became the 38th Associate Member of the International Cricket Council (ICC), adopting a much more professional approach to its planning, preparation and playing methods.

The results were astonishing, to say the least. In the last five years, Oman's cricket team have made a name for themselves, climbing the ladder, step by step, across the ICC's Associate level competitions. After being awarded ODI status in 2019, Oman is now ranked among the top twenty teams in white ball cricket – 13th in ODI and 18th in T20. Recent crowning glories include qualifying for both the ICC T20 World Cup for the 2nd time in India in 2016 and for Australia in 2020 following a strenuous qualification struggle.
Looking back, no one really thought that one day Omani cricket would bring more international acclaim and recognition than any other sport it plays. Having developed a top class cricket infrastructure in the last five years, Oman is now beginning to grow in stature as a dependable host of international cricket events and competitions.
Cricket is going to play a significant role in the government's efforts to turn Oman into a popular sports and tourism hub in the Middle East.

How Oman made the seemingly impossible, possible in a span of a few years makes for an interesting story.

Oman was fairly low-ranked when I joined Oman Cricket (OC) in 2013, it was a good challenge for me to change that and I decided to accept the position.
It has been wonderful working with the OC Board of Directors, who are excellent and passionate gentlemen led by Chairman Sri Kanak Khimji whose iconic leadership has been a great help in establishing and ultimately meeting our targets. Pankaj Khimji (Board Director) and Madhu Jesrani (Board Secretary) have been pillars of support and quite instrumental in turning around the team's fortunes.

The Board had to take a decision on which way we were going to go – focus on grassroots level or work on the talent we had and try to improve them. The Board of Directors decided to concentrate on the talent available and reach international heights first and then concentrate on grassroots level to lay the foundation for a strong Oman team in the years to come.
The move paid off as Oman Cricket reached the zenith in international cricket, in fact, it started assisting national players financially while extending financial support to the younger ones too, so that they would carry on higher education in Oman rather than going abroad.

Along the way, Oman Cricket started working on its domestic structure to be able to create a strong national set-up that continues to provide quality players to the national teams across all
age-groups.

Today, as many as 80 teams take part in the various levels of Oman's domestic tournaments. The premier league has six highly competitive teams that provide the bulk of talent for Oman's senior national team.

Highlighting the progress made in light of ICC's vision and guidelines, seven all-Omani outfits and an equal number of women's teams participate in the domestic season.
Currently, Oman's domestic season sees participation of 1500 senior players, 750 juniors, 250 Omanis and about 150 women cricketers.
Building a high class cricket infrastructure was one of the priorities of the Board and it went about meeting that goal with characteristic due diligence and dedication.
When I came here in Oman we didn't have green grass grounds. However, we were quick to develop the first one with 10 turf strips and floodlights.
It did not take us long before we had the second grass ground with match and practice facilities. By 2019 we had a full-fledged Oman Cricket Academy in Amerat that also became our head office.

Providing everything under one roof including a state of the art gymnasium, fully equipped restaurant and a club house, OCA is an excellent place for the players to prepare and play. It has a beautiful indoor facility with different surfaces — two fast bowling pitches, two for spin bowling and three for normal net practice.

Surrounded by lush green grounds with electronic scoreboards and floodlights, the air-conditioned indoor facility offers valuable support to players under the supervision of highly qualified international coaches. Not many indoor academies in the world can offer a fast bowler the luxury of a 20-metre runup that OCA does. Set up by experts from the renowned Australian firm Gabba International, OCA also boasts wonderful outdoor training facilities with ten strips in the first ground, 10 strips in the second ground and another 10 in the side nets with about 6 astro turf pitches to offer various training services including video analysing by experts to identify and work on a player's strengths and weaknesses. Recently, we added another six turf wickets to our facility in Amerat.

It's a complete setup which the ICC was very impressed to see. In fact, they have started holding many ICC tournaments in Oman, paving the way for regular international cricket in
the country. Well-planned and smartly run domestic tournaments began to attract more teams and players to its fold and the game has started to attract media and government attention.
Oman Cricket made Omani citizens the fulcrum of every team by legislating in their favour, making it mandatory on all sides to play and promote at least one Omani player in its playing eleven.

With the advent of turf pitches, grass grounds and professional coaches, Omani teams have started to make an impression in international tournaments dominating Associate nations competitions.From ICC WCL 5 to ICC WCL 2, along with major strides in twenty-twenty cricket, including participation in T20 World Cup in 2016, Oman's rise to international fame has been a joy to behold.

Personally, it has been a wonderful journey that promises more success and more glory in the years to come.

(This article was written by former Sri Lanka cricketer Duleep Mendis who is the Head Coach of the Oman team, and was originally published on the Anglo-Omani Society website ao-soc.org)