---
By Susil Premalal
Ramani Mangalika is one of the finest athletes Sri Lanka has ever produced but her dazzling achievements seem like a mere postscript in a distant past for many.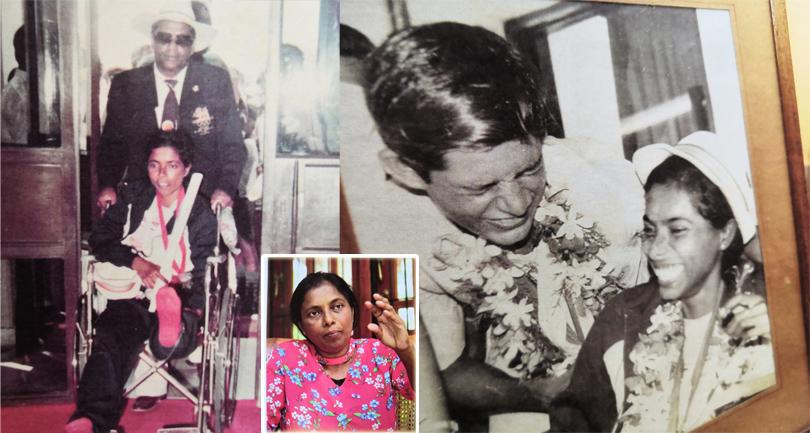 The majority of the present generation may not be aware of her feats while some have conveniently forgotten her as an obsolete item. However, she still remains in the hearts of a few people who genuinely love sport.
A product of Dharmapala College, Pannipitiya, Thotagoda Gamage Ramani Mangalika emerged in the 1970s decade to become an outstanding sprinter in athletics at national and international level.
She has the singular honour of winning the first Gold Medal for Sri Lanka in what is considered as the 'Mini Olympics' in the region at the inaugural SAF Games (South Asian Games) held in Kathmandu, Nepal in 1984.
She went on to represent the country at many international competitions becoming the first female athlete to represent Sri Lanka at the Second World Athletics Championships in Rome, Italy in 1987.
"Although I could not win a medal at Olympics, World Championships or Asian competitions, I produced some outstanding performances during the early part of the 1980s," she revealed
But most of those engaged in sports in the present era don't know who Ramani Mangalika is.
Some of them have not even heard about her. "For the few who know about me, Ramani Mangalika has no value. Even though I retired from athletics 30 years ago, my heart is still very close to the sport," she said.
"But I do not receive any invitation to attend any sports event. Even Dharmapala, Pannipitiya, where I received my education and won many laurels for the school in sports, does not attach any value to me. At least as a past pupil, I have not been even invited for the school Inter-House Sports meets," Mangalika said with a heavy heart.
Ramani Mangalika's career began as a tender eight-year-old when she took part in the 60-metre race at the Inter-House Sports Meet of Dharmapala.
Talent and skills
After gaining first place in this event, she gradually progressed to become one of the leading athletes at school level, displaying her talent and skills at various competitions such as the Public Schools Athletics Championships, National School Games and Junior National Athletics Championship.
Dharmapala College also gained prominence during this period to emerge champions in the All-Island Schools Games and in other competitions for several years.
"I took part in sports in the midst of bitter experiences. From schooldays I had to face lot of injustice. When selections were made to represent the school, preference was given to the favourite students of teachers' and parents," she lamented.
"So even though I had the skills, I was deprived of participating in competitions on many occasions. It was when Dhammika de Alwis (wife of late Lakshman de Alwis, a former Sri Lanka National Coach) and Padma Tilakawardena, joined the teaching staff of Dharmapala in 1975 that deserving athletes were chosen on merit," recalled Mangalika of the difficulties she faced in her early days.
In 1985, she broke a 15-year-old Sri Lanka record clipping another legend K. G. Bhadra's time of 25.6 seconds by clocking 25.5s in the 200m event.
The same year she ran in the semi-finals of the 100m at the Asian Championships in Jakarta, Indonesia clocking 12.08s.
Mangalika won the 100m Gold Medal at the Sports Ministry conducted National Sports Festival four times (1979, 1984, 1985 and 1986) and the 200m Gold Medal also four times (1979, 1980, 1984 and 1985) in addition to being adjudged Best Athlete at the Festival in 1980.
The fastest athlete (100m and 200m) in the country during the period of 1980 to 1988, Mangalika won her first National title when she clocked 12.50s in the 100m at the National Sports Festival in Badulla in 1979.
She made her international debut at the 1982 New Delhi Asian Games where she competed in the 100m and 200m but more significantly was a member of the 4x400m Women's Relay Team that set a new Sri Lanka record of three minutes 57.5s shattering the old mark of 4:08.9s.
Present-day athletes
"When we were running those days, we did not have facilities enjoyed by present-day athletes. When I went to train in the evening under Laksman de Alwis, I took the bus route number 108 from Athurugiriya which went through Town Hall."
"I began my training after walking about one and half kilometres to Torrington. After training for one or two hours, I used to drink a cup of plain tea at 'Gune ayya's' kade (shop) before walking back to Town Hall and returning home by bus."
"When my Coach Lakshman de Alwis had to attend a scholarship in Germany in 1982, he used to send me training schedules by post because there were no other coaches at that time."
"I continued training following these schedules until his return to the country. I will never forget these incidents in my life. They are beautiful memories."
"Also, those days we trained and took part in competitions without any proper clothing and even without proper running shoes. We just used to wear shorts and run."
"It was in this backdrop that we excelled through our talent and skill. We never complained about any shortcomings or asked for this and that or demanded houses or money when we won medals."
"If we had the facilities which are available today, we also could have won medals at Olympics, World Championships or Asian Games," said Mangalika.
In recognition of her achievements at the SAF Games, late Minister Lalith Athulathmudali who was the President of the athletics body, provided employment at the Sathosa as a Sports Officer which she served from 1984 till 2004 before opting for the early retirement scheme.
Mangalika also fondly recalled the benevolence of then Sports Minister Vincent Perera who helped her to receive treatment after she returned from her Gold-Medal effort in Nepal in 1984.
"I suffered a leg injury at the Kathmandu Games and it was National Coach Lakshman de Alwis who carried me from the plane to the airport when I returned home."
No Medicine Unit
"Those days there was no medicine unit at the Sports Ministry and we had to deal with our injuries on our own. I had to travel to Horiwila in Anuradhapura for treatment for my injury but had no transport."
"The Ministry also had only two vehicles to be used by the Minister and the Secretary. Sports Minister Vincent Perera graciously gave his own vehicle with a driver for me to get treatment in Anuradhapura. This was the calibre of ministers we had," she recalled.
"In today's sports set-up, there is no place for deserving or experienced people. There is no recognition for those athletes and coaches who have brought medals at international level."
"Incompetent people don't like to give a position for those who are skilled. There is no plan to preserve the expertise of past athletes. In this backdrop, there is no hope for the future of athletics," she said bluntly.