---
Long jumper Sarangi Silva and wushu athlete Tharindu Namal on Wednesday won gold medals for Sri Lanka on the fourth day of the 13th South Asian Games, which is in progress in Nepal.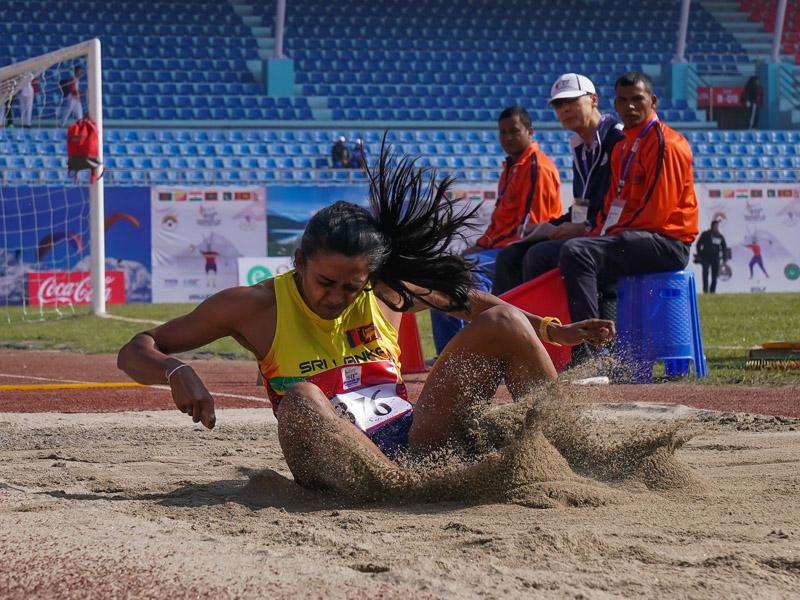 Sarangi Silva produced a career-best to win the Women's Long Jump (Pic courtesy Sameera Pieris)
Besides the two gold medals, Sri Lanka claimed four more silver medals – three from athletics and one from wushu – and a bronze medal in athletics as the games progresses towards its fifth day, today (5).
Gold medalist Silva jumped 6.38 metres, to record her personal best en route to win the Women's Long Jump event, in which Sri Lanka had a double podium finish at the Dasharath Rangasala in Kathmandu. Silva was not in the starting list originally, but was substituted at the eleventh hour for Vidusha Lakshani, who had decided to focus only the Women's Triple Jump event.
Silva's personal best jump had been 6.15 metres, and despite her jump yesterday, could not put her name as the National Record holder, which is 6.43 metres, a mere difference of 0.06 metres.
Finishing behind Silva, was her compatriot Anjani Pulwansa, who cleared 6.11 metres, who claimed the silver medal, while India claimed the bronze medal.
Kumar Shanmugeshwaran claimed the first medal of the day for Sri Lanka, with a silver, in the Men's 10000m, after a close battle with the Indian runner Suresh Kumar, who won the gold medal.
Shanmugeshwaran clocked 30:49.20 secs, but was battling very closely with the Indian, who went on to claim the gold medal after clocking 29:33.61 secs. Nepal's Deepak Adhikari won the bronze medal, finishing close behind the Sri Lankan at 30:50.06 secs.
Vinoj Suranjaya de Silva amended his failure at the Men's 100m final on Tuesday, and found solace and form to claim a silver medal in the Men's 200m final.
He clocked 21.19 secs, but failed to match up with Pakistan's Uzair Rehman, who clocked 21.15 secs to win the gold medal.
Saaid Hussain, who earned the title of South Asia's Fastest Man, failed to impress and claimed the bronze medal with a timing of 21.22 secs.
Ishara Madurangi achieved a 41.29m throw in the Women's Discus Throw event to secure the bronze medal. Other competitors who turned out for Sri Lanka failed to reach the top three, but managed to reach their personal best timings.
Gold and a silver from Taekwondo
Sri Lanka's Tharindu Namal won a gold medal in Men's Taolu Taiju Jain in the Wushu Competition of the 13 th South Asian Games at Lagankhel in Kathmandu yesterday. Namal's gold medal came after accumulating 18.90 points to stand above India's Gyandash Singh and Nepal's Hari Prasad Gole.
In the Women's Chan Quan Thaulo, P.H.G. Wathsala bagged a silver medal after completing at 8.55 points, as Nepal's Sushmita Tamang claimed the gold medal with 9.44 points.
India beat Sri Lanka in Kabaddi
India beat Sri Lanka 53-14 in Women's Kabaddi, which was played at the APF Hall in Halchowk.
India dominated through the entire game, leading from start to finish, holding the hapless Lankan lasses to a low score.