---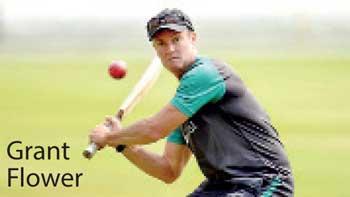 By Bipin Dani
Former Zimbabwe cricketer Grant Flower is likely to arrive in Sri Lanka within a week's time, it is learnt.
He is set to become the batting coach and is expected to start from December 1.

However, Flower is unlikely to travel to Pakistan, where two Tests are scheduled to be played in Rawalpindi and Karachi.
"Not that he has declined to travel there. On the contrary he is willing to join the team in Pakistan as he has already worked with the Pakistan players there but most probably he will work with the white ball players in Sri Lanka for the time being", a well-placed source told this paper.

"It is because, Arthur will be in Pakistan as a consultant for Sri Lankan team and once this World Test Championship series is over, both he (Flower) and Arthur (head coach) will take over their respective roles"

Flower's name was recommended by Arthur, it is learnt here. Australian David Saker, who is joining as a bowling coach, was recommended by Cricket Australia. Contract papers for Flower and Saker were sent and their lawyers are studying the clauses, it is also learnt here.