---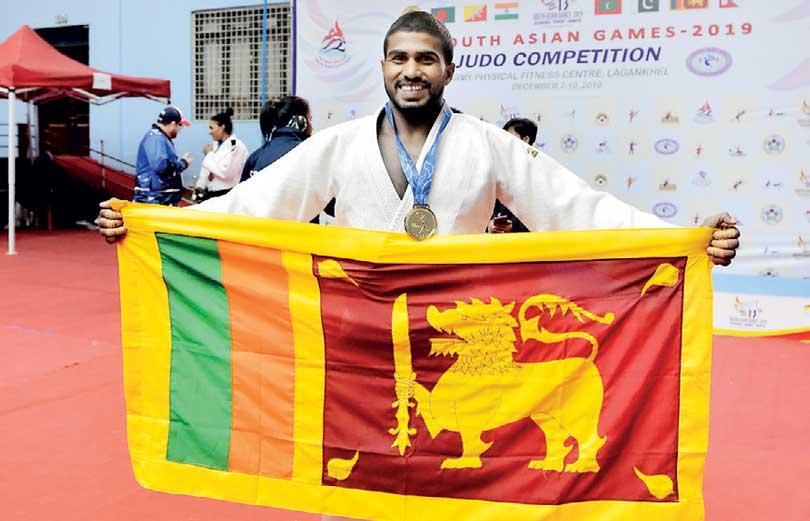 Chamara Dharmawardene won the gold medal in Men's 73kg Lightweight category
By Naushad Amit in Nepal
Chamara Dharmawardene bagged the gold medal in the Men's 73kg Lightweight category while Sri Lanka won another two silver and three bronze medals, in Judo at the 13th South Asian Games held at the Army Physical Fitness Centre in Lagankhen, Kathmandu yesterday.

Olympian Dharmawardene beat Nepal's Sanjit Dangol in the Men's 73kg Lightweight final after countering his opponent, who made an early assault. But Dharmawardene tactfully retaliated to see off his opponent and win the gold medal in style comprehensively.

The two silver medals came from Buddhika Premaratne and Chamila Dilani while Shalini Liyanage, Yameena Rifaz and Lakshika Maduwanthi bagged the three bronze medals for Sri Lanka yesterday.

Buddhika Premaratne bagged the silver medal in the Men's 60kg Extra Lightweight category, while Dilani's silver medal came in the Women's 48kg Extra Lightweight category.
The three bronze medals came from Liyanage, who competed in the Women's 57kg Lightweight, Rifaz, who competed in the Women's 63kg Half Middleweight and Maduwanthi, who competed in the Women's 52kg Half Lightweight categories.

The Judo competitions will end tomorrow with events from the remaining three weight categories for Women and four weight classes in the Men's segments.
Sri Lanka added four silvers and a bronze medal to their tally in the Swimming competitions which is being held at the International Sports Complex in Satdobato, Kathmandu.
Akalanka Peiris, Sandev Senaratne, and the Men's and Women's Relay teams competing in the 4x200m event won silver medals while Ramudi Samarakoon bagged the solitary bronze medal for the day.

Akalanka Peiris won the silver medal in the Men's 50m Backstroke event, to better his own Sri Lankan record of 26.33 secs set at the Youth Olympic Games in Argentina last year. He clocked 24.95 secs to shatter the earlier national record. Sandev Senaratne won a silver medal in the Men's 200m Butterfly event, finishing the race in 2 minutes and 06.29 seconds. The Men's 4x200m Freestyle Relay team, comprising Stephan Perera, Matthew Abeysinghe, Dilanka Shehan and Kavin Weerasinghe bagged the third silver medal for Sri Lanka. The team consisting Ramudi Samarakoon, Sandu Savindi, Bhakthi Karunasena and Ganga Seneviratne won the fourth silver medal in the Women's 2x200m Freestyle Relay event.
The only bronze medal on Monday was won by Ramudi Samarakoon, who finished the Women's 400m Freestyle event in 4 minutes and 41.91 seconds. After the third day of the Swimming competitions Sri Lanka has claimed a total of 28 medals, with four gold, 10 silver and 14 bronze. Today is the final day of the swimming competitions.