---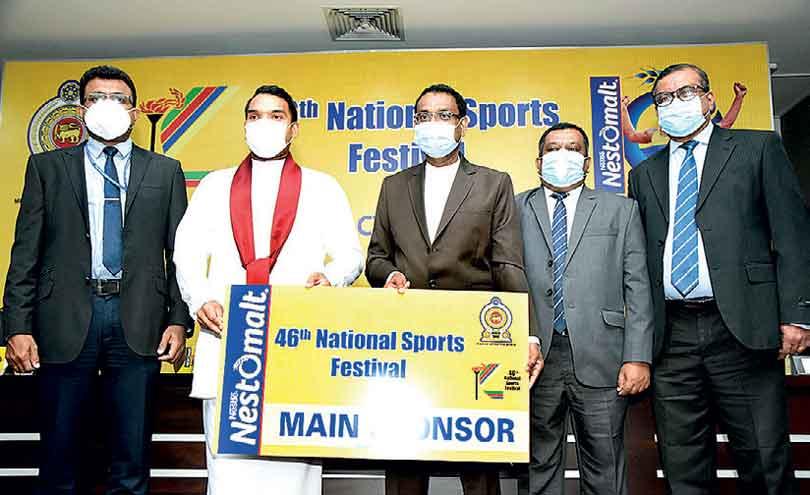 Bandula Egodage (C) Vice President, Corporate & Regulatory Affairs Nestle Lanka PLC., handing over the sponsorship cheque to Namal Rajapaksa, Sports Minister - Pix by Nimalsiri Edirisinghe
By Susil Premalal
The Sports Ministry is making arrangements to conduct the marathon, race walking and cycling events of the 46th National Sports Festival from March 26 to 29 in Kataragama.
The Open marathon (men and women) will be held on March 26, race walking (men and women) on March 27 and cycling (men and women) on March 29.
Since March 28 is a Poya day, the ministry has decided not to conduct any events on that day.

The National Sports Festival could not be held last year because of COVID-19 with marathon, race walking and cycling being scheduled to be held in Kataragama.
Meanwhile, the Sports Ministry hopes to select a national pool for these three disciplines after the festival. Marathon and race walking comes under the purview of Sri Lanka Athletics while the cycling pool will be formed after the elections of the Cycling Federation of Sri Lanka are held.

The Open men's cycling race will be over a distance of 158 kilometres while the women's event will cover 78km. Race walking for both men and women will be over 20km.
All participants will have to adhere to strict health guidelines. The Sports Ministry hopes to give cash awards to the winners of all three competitions.
The marathon is being sponsored by Nestle Lanka Ltd. The sponsorship was handed over to Sports Minister Namal Rajapaksa yesterday.

The winners of the marathon, race walking and cycling events, both men and women, will receive Rs 50,000/- each, runners-up Rs 30,000/- and the third-place finishers Rs 20,000/-. The ministry has also decided to give cash awards from fourth to 15th positions in each event.