---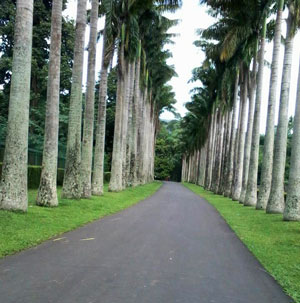 Have you known that you can see the culture of the country, when you see a garden? As the country has chosen to import and show off the plants at the garden that how it wants to be seen, the horticultural oasis reflects its culture too. Peradeniya Botanical Gardens is one of best travel destinations in Sri Lanka to experience its horticultural hot spots. And it makes to return with fresh perspectives too. Peradeniya Botanical Gardens is the largest botanical gardens in the country, which is located in Kandy, Central Province in Sri Lanka. And the longest river of Sri Lanka, called Mahaweli River also flows nearby this fantastic eco destination, and that gives a picturesque view too.

Even though, this garden displays abundant flora species, it is popular for the beautiful collection the variety of Orchids. More than 300 varieties of Orchids, spices, medicinal plants and palms trees are recorded and this beautiful garden spreads over 147 acres. Before turning this destination to a botanical garden, it was a royal pleasure garden of King Kirthi Sri Rajasinghe during the time of 1747-80. This Peradeniya Botanical Gardens was formed by Alexander Moon in 1821. There are about 4,000 species of plants, occupies 146 acres and 150 acres of trees, lawns and flowering shrubs recorded at this attractive oasis. And floriculture conservation, butterfly conservation, birdlife conservation and insect conservation are some of significant as well as wonderful things of this garden. Some of main attractions at the Peradeniya Botanical Gardens are Mahaweli River, palms, orchids' collections, gymnosperms, an Octagon Conservatory, fernery, banks of giant bamboo from Burma and numerous flower borders with cannas, hibiscus, chrysanthemums, croton, colorful bougainvillea and an artificial lake in the shape of the island of Sri Lanka. And also, visitors can explore several avenues near by the Mahaweli River Bank of this garden, such as Double coconut Avenue, Cook's Pine Avenue, Cabbage Avenue, Palmyra Palm Avenue and Royal Palm Avenue. Not only plant life, but there are many wild lives can be found too. It is recorded this Peradeniya Botanical Gardens has around 80 bird species, 15 amphibian species and 18 species of mammals. However, for a particularly spectacular experience, visitors should plan a visit starting after the month of March, which is the time that new flowers are blooming.

Therefore, travelers who wish to enjoy hiking, bird watching, discovering butterflies and colorful flowers and experience the cool environment, Peradeniya Botanical Gardens in Sri Lanka will be a best travel destination. In addition to this picturesque location, there are many noteworthy gardens and parks to discover in Sri Lanka, such as Hakgala Botanical Gardens, Henarathgoda Botanical Gardens, Victoria Park and Viharamahadevi Park. And travelers can find a best relaxation spot, since there is a wide range of eco-friendly affordable and best Kandy hotels available at Hotels in Sri Lanka. Therefore, no matter what you prefer on the floral front, this Peradeniya Botanical Gardens is well worth a trip.
---
---
Add comment

Comments will be edited (grammar, spelling and slang) and authorized at the discretion of Daily Mirror online. The website also has the right not to publish selected comments.

---