---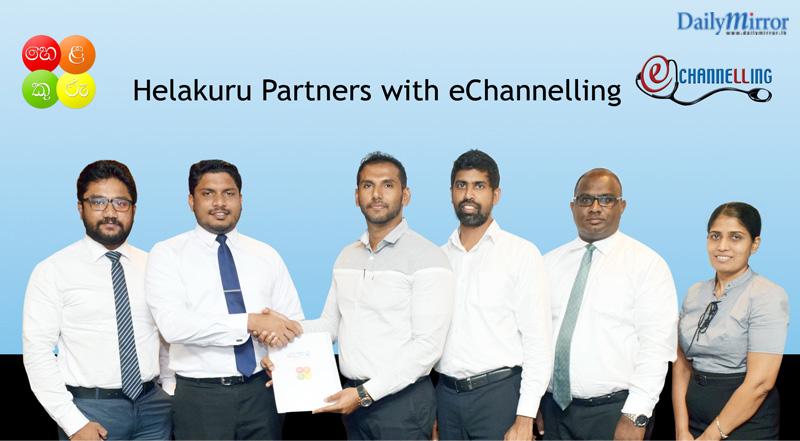 Dhanika Perera - Bhasha Lanka (Helakuru), Founder/Chief Executive Officer exchanging the partnership agreement with Suneth Haputhanthri - General Manager, eChannelling. Also present were (from left) Bhasha Lanka (Helakuru) Sanoj Siriwardana - Head of Marketing and Operations, Madura Hewage – Manager, eChannelling, Mohan Ajithkumar - Manager Business Development, eChannelling and Samankumari Amarasinghe - Senior Manager Information Systems, eChannelling.
eChannelling, the largest Doctor Channeling Network in Sri Lanka has joined hands with Helakuru mobile App, the most downloaded local App on Google Play Store & Apple App Store, empowering over 5 million Sri Lankans with Localized Digital Services. Through this partnership, users can channel a doctor conveniently through the Helakuru app using Sinhala language. Having launched as a Sinhala Keyboard App 8 years ago, Helakuru is now evolving as a Platform for Digital Service Providers to take their Digital Services efficiently & effectively to over 5 Million Sri Lankans.
Over the years, eChannelling's operations have demonstrated that a digitally-enabled healthcare sector brings innumerable benefits to the people of the nation. The brand is bridging the gap between healthcare providers and the public by improving effectiveness and efficiency of service consumption in a user-friendly way.
Having a network of over 250 recognized hospitals, more than 5500 doctors, over 2000 outlets and coverage of any telecommunication network, eChannelling is the easiest way to channel a Doctor from anywhere at any time. eChannelling is the first company in Sri Lanka to offer a complete e-commerce based service in the health sector and one of the first public quoted technology companies in the Colombo Stock Exchange. eChannelling PLC is a subsidiary of Mobitel (Pvt) Ltd and the pioneer software developer and ICT service provider to the healthcare industry in the country. Mobitel has taken digital healthcare to the next level by adding eChannelling to its portfolio and strengthening its position in the country's telecommunications industry.