---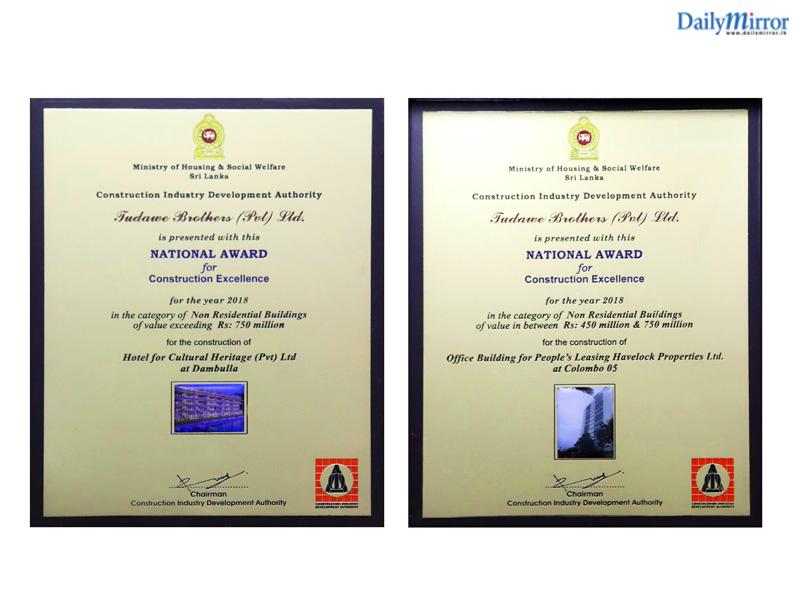 Tudawe Brothers(Pvt) Ltd, Sri Lanka's pioneerconstruction company with a reputation for quality craftsmanship counting over seven and a half decades, clinched two prestigious Construction Excellence Awards and a Merit Award at the 2018 National Construction Excellence Awards ceremony.
Organized by the Construction Industry Development Authority (CIDA) in collaboration with the Ministry of Housing and Construction, the awards ceremony was held at BMICH under the patronage of President MaithripalaSirisena.
CIDA, the national apex body for development and promotion of the domestic construction industry, regulates the grading of construction contractors, and provides strategies and advisory services to the industry and also assists in its implementation, in addition to otherconstruction related activities.
Tudawe Brothers yet again proved its position as a market leader in the construction of buildings by winning the excellence awards in recognition of its office building project for People's Leasing & Finance PLC at Havelock Town and Jetwing Lake Luxury Resort at Dambulla.
Additionally, itwas also awarded a merit for the reconstruction and relocation of buildings for Automobile Engineering Training Institute previously located at Orugodawatte. The company is no stranger to the annual awards, having won many accolades regularly in addition to other achievements.
Board of Directors and staff, said 'We are proud to be recognized with two excellence awardsand a merit for projects completed in the recent past. We share this continued success with all our clients, consultants, suppliers, institutions, employees, the Government, and all other stakeholders.'
With proven decades of timely delivery of quality construction and services at a competitive cost, Tudawe Brothers provide end-to-end solutions for every category of building and infrastructure projects, including highways, bridges, water supply & drainage, irrigation and storm water drainage. It is the first local construction company that was certified to practice a management system conforming to the standards established by the International Organization for Standards. This recognition for building construction and production of Ready Mix Concrete was conferred by DNV in 1996.
'While being a leader in building construction,the company is also gearing up for a surge in civil engineering projects. This sector exhibits a promising outlook with the country's drive towards infrastructure development and economic upliftment,' Mr. Tudawe added.
The Industrial Services Division which operates under Tudawe Brothers as a strategic Business Unit, supports the Construction Division by production and supplying Aggregates, Ready Mix Concrete Asphalt Concrete. The available production capacity exceeds the 'in house' demands and hence the excess production are offered at very competitive prices to external sales including some fellow contractors as well to cater, to their needs.
Established in 1942, Tudawe Brothers is one of Sri Lanka's premier engineering construction firms today, and the first and only local construction company to be certified as a 'Chartered Building Company' by the Chartered Institute of Builders, UK. The company is currently in possession of ISO 9001: 2015, ISO 14001: 2004 and OHSAS18001: 2007 Certificates and working towards upgrading the OHAS 18001: 2007 Standard to ISO 45001: 2018 Standard.