---
(From Left to right) Mr. Mohan de Silva - Showroom Manager, Signature Studio, chief guest of the occasion - Hon. Dullas Alahapperuma - Minister of Power, Mr. Amjad Marikkar Hameed - Signature Brand Manager.
Signature, Sri Lanka's leading home-grown menswear brand, has unveiled the latest Signature Studio flagship store in Matara, making it the newest addition to the company's expanding Signature Studio network.
As the flagship store of the Signature brand, the Signature Studio caters to aspiring youth in the market by offering the most comprehensive collection of Signature brand items under one roof. Centrally located at No. 181, Anagarika Dharmapala Mawatha, Matara, the new Signature Studio offers customers convenient access and ample parking as they step in to experience the latest in men's fashion.
With the unveiling of the store, fashion-conscious gentlemen in Matara and surrounding areas have the opportunity to experience a unique retail experience that delivers products of the highest quality together with customer-centric service. They can choose from a wide variety of menswear that includes formal, ceremonial, smart casual, casual, linen, party, suits, shirts, blazers, and trousers. The store also offers a wide range of leather products and men's accessories enabling the customers to find the ideal accessories to perfectly match their new purchases. The specially designed showroom offers customers a relaxed environment where they have the freedom to leisurely browse through the vast collection, choose the items they prefer, fit-on conveniently, and purchase using a variety of payment options.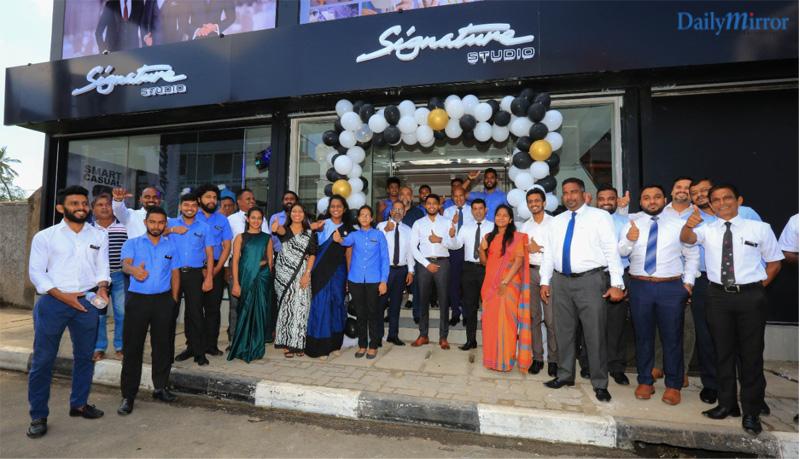 Signature team
The Signature Studio will also offer Signature tailoring services Made-to-Order (MTO) and Made-to-Measure (MTM). Made to Order (MTO) allows customers to customize ready-made clothing options from over 200 designs across a range of fabrics, sizes, and fit while 'Made to Measure' (MTM) allows customers to get alterations done to existing and available ready-made pieces according to their fit. Additionally, the store also features a selection of women's clothing items as well as other brands, with more brands and items to be introduced in the future.
Expressing his views, Signature Brand Manager Amjad Hameed stated, "As the most trusted youth menswear brand in Sri Lanka, we are pleased to launch a Signature Studio in Matara and provide the gentlemen of this bustling city the chance to gain access to men's fashion that meets international standards. This is the latest milestone in our ongoing efforts to create awareness of the Signature brand and expand our market islandwide. Our primary aim has always been to provide our valued clientele the customer-centric, fashion-forward, high-quality services they deserve. Here, they will be able to browse through a vast range of Signature products and find the perfect clothing item for any occasion and matching accessories as well. As always, Signature Studio aims to deliver innovative and quality clothing products with outstanding service to our valued customers. We are confident that this store will enhance customer satisfaction and meet all their needs under the Signature brand."
Established in 1989, Signature has made a name for itself as the Value for Money brand for both formal and casual categories, operating as the most trusted local menswear brand in Sri Lanka. Well-known for its ability to build confidence by enriching personalities of the younger generation, Signature has a developed, encompassing lifestyle line that is fashionable for men to be flamboyant and loud. Signature features carefully-designed pieces for young undergraduates, Executives and Junior Managers who dream to be a CEO one day and want to look extraordinary.