---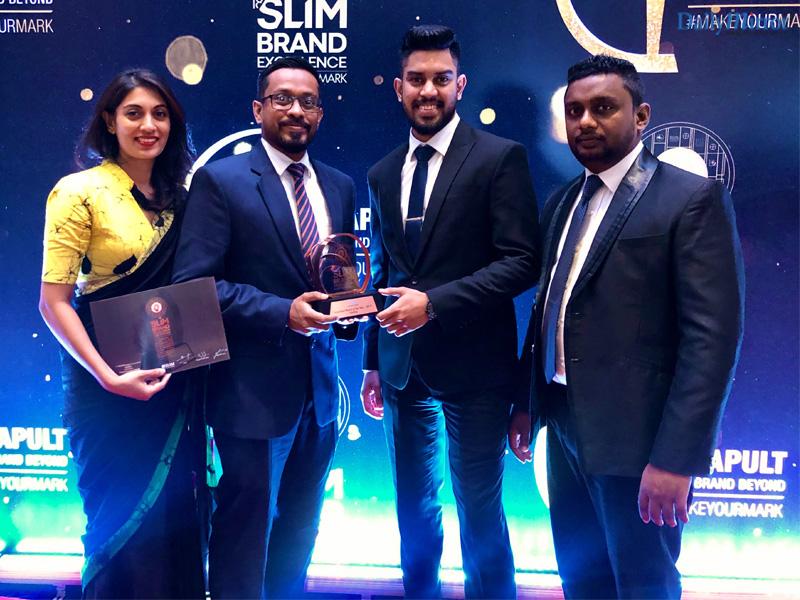 Fairfirst Insurance recognized for being the only innovative insurer at SLIM Brand Excellence Awards. From left to right: Surenie De Silva - Brand Manager, Sasith Bambaradeniya - Head of Marketing & Digital Solutions, Dilshan Rabbie - Manager Marketing & Digital Solutions & Supun Kotuwegoda - Manager Marketing Operations & CSR
Fairfirst Insurance was recognised as the top 3 most innovative brands across all categories in Sri Lanka. Fairfirst is the only financial services brand so recognized at the recently held 18th SLIM Brand Excellence Awards where they won an award for 'Innovative Brand of the Year 2019'.
The SLIM Brand Excellence Awards is a celebration of brand excellence at national level and rewards the outstanding efforts of outstanding brands. Through this event, SLIM endeavors to not only encourage best practices in branding, but also to raise local brands to global standards.
Fairfirst Managing Director and CEO, Dr. Sanjeev Jha, commented "We are extremely grateful for this recognition from SLIM for being 'innovative'. This is a true testament of Fairfirst being a driver of an innovative-led agenda and tech driven business model that generates insurance solutions & products across the market. This recognition to us also means, being progressive, being aligned to customers evolving needs and always willing to Give It A Try."
Commenting on the company's success, Sasith Bambaradeniya, Head of Marketing & Digital Solutions, also said "We are delighted to win this prestigious award. We are an insurer aiming at fair and fast solutions. We seek to innovate in order to provide our customers with a fresh and fair experience. And as such, this award is testimony of our ever-expanding innovation agenda."
With a passion for making complex insurance solutions simple and accessible, Fairfirst is a leading insurance company that is part of the Canadian-based Fairfax Group. Serving individuals, businesses and institutions, the company offers its out-of-the-box solutions via its team of 1400 professionals, who work across a service center network comprising 56 branches. Putting innovation, fun and excitement back into the insurance industry, Fairfirst is fast-becoming an industry leader that people turn to and trust.