---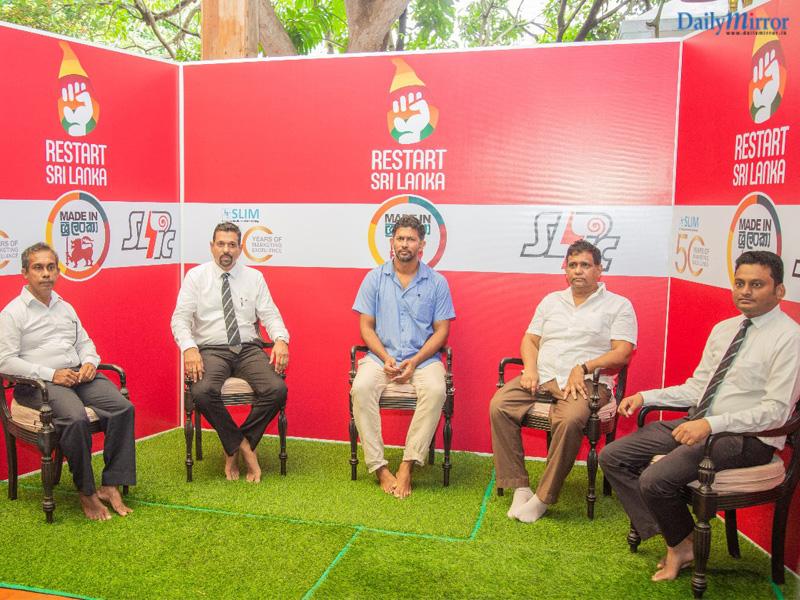 Mr. N.N.W Dolawatta- Director- SLIC, Mr. Roshan Fernando - President- SLIM, Porf. Rangika Halwatura- Commissioner- SLIC , Dr. Sanath Hettige - Assistant Commissioner-SLIC, Mr. Sachith Karunarathna- Manager Marketing- SLIM
The National Body for Marketing in Sri Lanka (SLIM) together with the Sri Lanka Inventors Commission (SLIC) launched the 'Made in Sri Lanka' platform to bring about recognition to Sri Lankan inventors, which was launched recently at Gangarama. "Made in Sri Lanka" is an initiative aimed to assist and encourage inventors to come forward to exhibit their inventions and products, and provide guidance to inventors as to how to better commercialize and market their inventions to prospective investors.

The pearl of the Indian Ocean is enriched with jewels that are unfortunately hidden with no opportunity to shine. With Sri Lankans showcasing their skills globally, ranging from acting to entrepreneurship and athletics to engineering, there is no doubt about the skills they possess. Time and time again they have proved their abilities to both the country and the world. Sri Lankans are innovative and creative and have the ability to generate novel concepts and unique inventions that would benefit both the country and world. While they have the capabilities, they lack the capacity, in terms of finance, opportunities and marketing knowledge that is needed in order to generate an income through their inventions. Hence, they face many hardships in commercializing their products or converting them into viable businesses.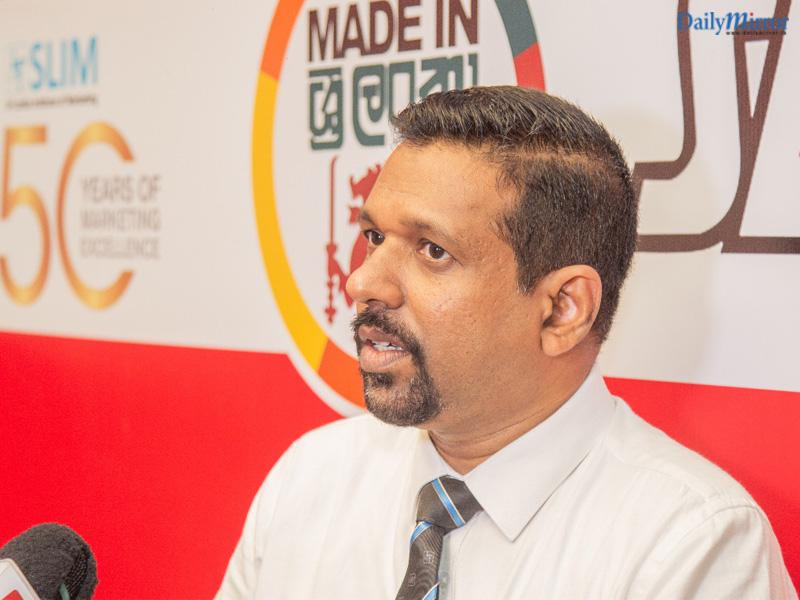 SLIM in collaboration with SLIC has stepped up to help these inventors achieve their dreams. The 'Made in Sri Lanka' initiative was launched with the intention of recognizing Sri Lankan talent and paving the way for Lankan inventors to convert their creations to successful businesses that would generate profits. This marketing-oriented platform further provides guidance to inventors on how to successfully communicate with investors and make their products more appealing to them through knowledge driven workshops.

The event was held with the participation of about 100 inventors. In addition to the launch, the inventors were granted an opportunity to exhibit and demonstrate their inventions and a workshop on marketing knowledge will be organized to support them. During this workshop the inventors will be given guidance in relation to commercializing the product, marketing the product and reaching out to investors.

The COVID-19 pandemic created a platform to bring forward the talented local inventors to showcase their creations regardless of the barriers and challenges they would have faced by the debacle caused by COVID-19. While adhering to social distancing rules, the target audience from around the country gathered at one destination at the launch of 'Made in Sri Lanka' to guide them on a clear path of work.

Speaking at the event Prof. Rangika Halwatura, Commissioner – SLIC stated, "On a daily basis Sri Lanka witnesses many people who innovate and come up with new products. But commercializing those inventions are at a very minimal level in the country, which tends to continuously discourage these inventors. So our intention is to help add value to those inventions and make these investors into entrepreneurs, or create a platform for investors and inventors to meet, commercialise their products and carry them into local and international markets. We believe that this initiative would allow Sri Lankan inventors to gain the much needed recognition and pave the way for them to become successful entrepreneurs one day. SLIM is the national body that represents the marketing and business fraternity in Sri Lanka. Thus the collaboration of SLIM and SLIC in trying to give an opportunity to Sri Lankan inventors would definitely be a success story with many happy endings for our inventors".

Roshan Fernando, President of SLIM said, "The National Body for Marketing- SLIM has always been in the forefront in promoting the future marketers of Sri Lanka through recognition, motivation and appreciation. As a sub-project under the 'Restart Sri Lanka' initiative SLIM also spearheaded and shouldered the responsibility to encourage and assist investors by creating a market-oriented invention platform to support successful entrepreneurship. In addition to taking every opportunity to build marketing platforms for Sri Lankans, SLIM did not hesitate to join this venture to help the local skills and talents of the country. This initiative founded along with SLIC, would be the cornerstone in building a hub for our talented local inventors to reach out in commercialising their products to both local and international investors. During these troubled times, SLIM proudly takes this opportunity to give hope and provide a platform for local inventors to shine while also aiding to restart Sri Lanka".