---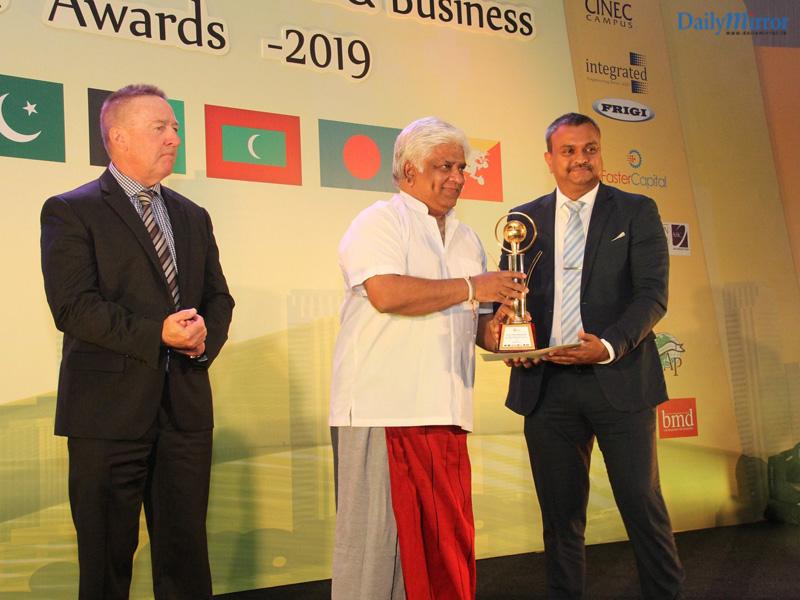 Prabath Gamage, General Manager- Enterprise Solutions, receiving the Best Business Solution Provider 2019 Award
Stamping its mark in the Enterprise category, Mobitel Business Solutions (MBS), that offer fully-fledged business solutions to organisations coupled with innovative mobile technology was bestowed with the prestigious 'Best Business Solutions Provider of the Year 2019' award, at the South Asian Business Excellence Awards held at the Hilton, Colombo recently.

SABE recognizes business entities that demonstrate best practices in implementing practical outcomes that significantly improve the value, efficiency and effectiveness of their clients, resulting in significant business benefits and achievements in the areas of Business Impact, Complementary Practices and Business Services in the South Asian Region. MBS received premier ratings during the stringent evaluation by an esteemed panel of judges based on Objectives and Challenges, Uniqueness and Complexity and Processes and Procedures.

As the Business Solutions Arm of Mobitel (Pvt) Ltd, the National Mobile Service Provider, MBS provides a variety of first-class services aimed at unlocking the fullest business potential of companies thus empowering customers with the latest technology and tools to enhance profitability while simultaneously assisting them to adopt new technology platforms. MBS counts the widest portfolio of corporate clients on the island, encompassing blue-chip private sector companies, government entities, SMEs and even centres of higher learning and education. MBS also boasts an island-wide presence with solution experts located at all major districts and cities to support deliver end to end solutions regardless of client location. As part of its exciting partnership with South Asia Gateway Terminals (SAGT), Mobitel recently delivered a communication system based on the ubiquitous LTE technology, which is customised for SAGT's mission-critical communications within the shipping port. In doing so, Mobitel ensured SAGT benefitted from the advantages of deploying the world-renowned 3GPP standardised LTE technology.

MBS also received recognition for two industry firsts, namely, mLocator Premier, a GPS-based user location tracking system, and Tea Auction App mAuction. Going a step further, Mobitel recently acquired a majority stake in local security solutions leader M3Force, which provides one-stop comprehensive security solutions comprising advanced video analytics to offer the best emergency responding service manned exclusively by well-trained ex-servicemen.

MBS's some essential services implemented on behalf of the government include Grievance & Petition System (Tell The President of Sri Lanka); Corporate Digital Rewards System; Electronic Ticketing System for Government Parks with QR validation (mGate); Electronic Travel Authorization (ETA) system - Department of Immigration; ETA Project and Mobile Based Ticket Reservation System (mTicketing). Mobitel Business Solutions offers SMEs the advantage of a 'pay as you go' payment model.

Mobitel Business Solutions has also won acclaim for its other products such as mTransit Cash Collection App, which is a cash collection app for internal and external users of the company; Media Box solution, which is a complete digital signage solution that allows users to easily build and manage a centrally controlled network of dynamic displays. These players and its digital content can be managed online, remotely from a centralized platform; mDistributor, which is a Sales Force Automation tool that systematize the business tasks of sales, including order processing, sales information sharing, inventory monitoring and control, order tracking, customer management as well as sales forecast analysis; and a Document Management System, an automated tool for organizing, securing, capturing, digitizing, tagging, approving, and completing tasks of the business files.

Mobitel Business Solutions has forged a strong partnership with Microsoft, one of the leading technology providers, amongst others, to power its solutions. Microsoft (Office 365, Intune, Azure), IBM (MaaS360 with Watson MDM), Cisco WebEx (Meeting Center, Event Center), Amazon (Amazon Web Services), Samsung (Samsung Knox MDM), Utech United Tractors (IIOT Solution), Bileeta (ERP Solution), Cemex (HRM Solution), KayJay (CCTV), M3Force (CCTV) and Office Networks (CCTV) are its strategic partners, diligently supporting the company in its deployments. The superiority of MBS is also fortified by its local excellence where it won the National Best E-Contest (e-Swabhimani) Award for public service and its citizen-focused "Tell the President" project, iCard and mChannelling initiatives; and ISO 9001:2015 Quality Certification.

MBS has taken the lead in spearheading industry-specific solutions in areas that are still very nascent. These include plantations, private and home security, warehousing, transportation, etc. The company has steadily built up a reputation for implementing best-in-class solutions for operational excellence, business intelligence and customer-specific solutions for current and emerging needs. Mobitel Business Solutions has excelled in aiding clients in future-proofing their organizations by way of enhancing IT-related capabilities and infrastructure to remain globally competitive.