---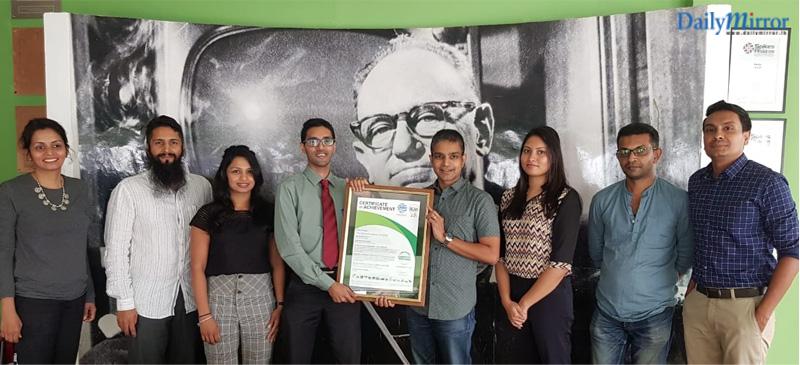 Arosha Perera - Chief Executive Officer, Leo Burnett Sri Lanka being handed the official CarbonNeutral® Certificate from Sajeewa Ranasinghe - Asst. Manager of Sustainability Assurance & Advisory Services, SFG.
Leo Burnett Sri Lanka, part of the globally acclaimed agency Leo Burnett Worldwide was recently certified as a Carbon Neutral business for the second consecutive year, following a thorough evaluation that was conducted by The Carbon Consulting Company. The agency embarked on the rigorous re-certification process as part of its long-term commitment to run a sustainable business and ensure that its operations do not tax or harm the natural environment.
The official CarbonNeutral® Certificate was handed over to Arosha Perera - CEO, Leo Burnett Sri Lanka by Sajeewa Ranasinghe - Asst. Manager of Sustainability Assurance & Advisory Services, The Sustainable Future Group (SFG), in the presence of the agency team. The stringent CarbonNeutral® Protocol guarantees the integrity and credibility of the evaluation and certification process, which is in line with globally recognised standards.
As part of the analysis and evaluation process, multiple factors were taken into consideration and on-site inspections were done covering electricity and energy use, fuel consumption, fugitive emissions and the impact of third-party deliveries (of water, stationery etc.). Other areas that were assessed included waste management, the use and impact of all vehicles (owned, leased and hired), as well as that of local and foreign travel and the daily commutes of the entire team.
Commenting on the certification, the CEO of Leo Burnett, Arosha Perera, said: "As we continue our efforts to run a sustainable and environmentally-friendly organisation, we are extremely pleased to earn our Carbon Neutrality Certification for the second year. With climate change and global warming being key concerns that are affecting us, our clients and our business in every way, it is more important than ever that we come together and make an effort to mitigate, counter or reduce our impact on our planet. This exercise has continued to create a positive culture of environmental consciousness and greater self-awareness in our team, aside from becoming CarbonNeutral®, we have also minimised the unnecessary wastage of resources such as water and energy. By making smarter, eco-friendly choices as a team and connecting our sustainability goals with our financial and operational ones, we have been able to create a win-win situation for our business, which has enabled us to cut costs and streamline systems to maximise efficiency, profitability and productivity."
Also commenting, Lakmini Senadheera – Head of Sustainability Assurance & Advisory Services, SFG, said, "We are pleased to award Leo Burnett Sri Lanka the globally recognised CarbonNeutral® Certification from its proprietor and our partner, Natural Capital Partners in the UK, which signifies that the agency has met stringent standards and is applying the necessary protocols and methodology to offset all of their carbon emissions. Leo Burnett Sri Lanka is stepping forward as a pioneer in the advertising industry to champion the protection of the planet, and now joins an elite group of organisations that are consciously trying to protect our natural resources and environment. We would like to congratulate the Leo Burnett team for setting a new benchmark for environmental leadership within their industry and working tirelessly to secure their certification for a second year."
Over the years, Leo Burnett has built many powerful brands and meaningful partnerships with its clients, whilst delivering gratifying results and gaining peer recognition in the industry. This year, Leo Burnett Sri Lanka celebrates 20 years of shaping the marketing communication industry in the country, and 84 years of global success, and as the agency looks ahead to the future, its dynamic team of world-class professionals remain dedicated to developing new ideas inspired by HumanKind – Leo Burnett's philosophy which is rooted in the belief that creativity has the power to change human behaviour.